Description
Join us in the new year for more of our monthly series, Capital | Talent | Tech. We have an exciting lineup of guest speakers for you this year so be sure to mark your calendars! Topic of focus will be rotated each month, where industry leaders will join us for an engaging fireside chat.
In January, we are kicking things off with a conversation around Capital with Karna Gupta, Chair of the Board at ventureLAB and VOTI Inc. We hope to see all of you there!

Agenda:
9:30 a.m. Registration & networking
10:00 a.m. Conversation with Karna Gupta on Capital

11:00 a.m. Q&A followed by networking
Speaker: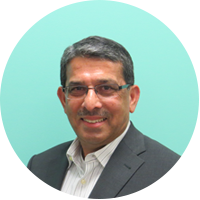 Karna Gupta, Chair of the Board at ventureLAB and VOTI Inc., is one of the most respected and well-seasoned executives in high technology with an exceptional track record. With more than 30 years of outstanding industry experience, his expertise and accomplishments span across North American and International business domains.
Mr. Gupta previously served as CEO of Certicom Corp. and has held several executive leadership positions with Bell Canada, including Vice President of Product Development and Management. He was responsible for Competitive Network Services and under his leadership Bell Canada became a recognized world leader in Enhanced Services. Mr. Gupta was also President of Sitraka Mobility, leading that company from start-up to a successful merger in 2001.



Getting to ventureLAB:
Parking is available in the guest parking area of the IBM Headquarters at 3600 Steeles Avenue East in Markham. From Pharmacy Road/Esna Park Road, enter into the IBM driveway and follow the signage directing you to the guest parking. All parking is free.
If taking transit, enter via Esna Park Road on the north side of Steeles Avenue.
Enter through the Main Reception where a ventureLAB team member will greet you and help you find your way.


Photo/Video Disclaimer
All ventureLAB events are recorded for educational and marketing purposes. If you do not wish to be included in these recordings please let a ventureLAB team member know as soon as possible so that we can omit you from the recording.


About ventureLAB
ventureLAB exists to support innovative entrepreneurs building scalable tech businesses. With tailored programming focused onCapital, Talent, Technology, ventureLAB is advancing York Region's innovation economy on a local, national and global scale. Acting as Creative Directors for the IBM Innovation Space – Markham Convergence Centre inside the IBM Canada Headquarters, ventureLAB manages 30,000 square feet, housing over 30 tech companies and 200+ tenants.


For more information about ventureLAB, please visit www.ventureLAB.ca. Questions? Send us an email at hello@ventureLAB.ca.