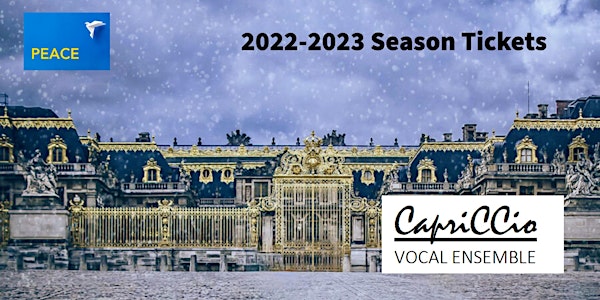 CapriCCio 2022 - 2023 Season Ticket
CapriCCio Vocal Ensemble concert season 2022-2023 Music Director : Marco Vitale
When and where
Location
Christ Church Cathedral 930 Burdett Avenue Victoria, BC V8V 3G8 Canada
About this event
We are delighted to announce the music we will be performing in the 2022-23 season under our new Music Director, Marco Vitale. All concerts will again be held at Christ Church Cathedral. Season ticket holders will receive preferential seating and will save 15% on the single ticket price. Single tickets at reduced prices for students and free tickets for children will be available later prior to each concert.
November 11th 2022 at 2pm : Madrigals of War and Love
For our traditional Remembrance Day concert on November 11th, we have constructed a program that allows us to honour the sacrifices of those who have died in war, including the recent conflict in Ukraine. Monteverdi's Songs of Love and War will be complemented by two motets by Arvo Part, as well as by music by modern Ukrainian composers. Our traditional Remembrance Day concert has not been performed since 2019. We recognize a huge need in our community to honour those who have died, or who have fled, as a result of war – including the current war in Ukraine.
December 23rd 2022 at 7.30pm. : Christmas in Versailles
For the Christmas concert (The "Night Before the Night Before" on December 23rd) the main work will be Marc Charpentier's Messe de Minuit pour Noel. This lovely work will be combined with our traditional selection of carols.
February 25th 2023 at 7.30pm : Couperin's Messe pour les Couvents
The choir will sing polyphonic motets and plain chant to support Marco's performance of Francois Couperin's organ mass.
May 26th 2023 at 7.30pm : Intermedi della Pellegrina
In our final concert, we will be performing some of the earliest music ever performed in Victoria. The Intermedi della Pellegrina was composed in 1589 on the occasion of the wedding of the Grand Duke Ferdinando and Christina of Lorraine. This sumptuous collection of choral madrigals, solos and instrumental pieces was staged to display the magnificence of the Medici household in Florence.
Music Director: Marco Vitale
Marco Vitale was born in Palermo, Italy. After finishing studies in his hometown, he attended the Royal Conservatoire in The Hague where he studied harpsichord with Ton Koopman and organ with Jos van der Kooy, graduating with a master's degree in Early Music. Throughout his career Marco has performed at the most prestigious venues and festivals throughout Europe, the USA, Canada, South America, the Middle East and Asia. From 2008-2011 Marco Vitale worked at the Higher Institute of Music in Damascus, Syria, where he taught early music performance practice and performed concerts together with Syrian musicians.
He is the co-founder and musical director of Contrasto Armonico, an ensemble specializing in Baroque operas and the performance of music in the Italian style, using period instruments and historically informed performance practices. In 2012 he founded his own record label ayros, and is currently involved in recording the Complete Italian Cantatas by Handel, a thrilling project that will bring to light many undiscovered jewels of Handel's which have yet to be either edited or recorded. Marco has appeared on several radio and TV broadcasts, including the specialized music channel Mezzo.tv. In addition to ayros, he has recorded for Alia Vox, Naïve, and Brilliant Classics.
Marco has a truly international reputation as a harpsichordist and teacher of baroque music performance and he continues to tour with Jordi Savall's ensembles Le Concert des Nations & Hespèrion XXI. He is the artistic director of the Arcadia Early Music Academy workshop in Poland and teaches at La Pellegrina summer school in the Czech Republic. He gives masterclasses, lectures and workshops at the Fryderyk Chopin University of Music in Warsaw, Fondazione Paolo Grassi in Martina Franca (Italy), ESMUC in Barcelona, the Higher Institute of Music in Damascus, the University of Southern California in Los Angeles and the University of Victoria in BC.
Since Marco first came to Vancouver Island in 2017, he has directed the Denman Baroque Festival and Workshop; the Salt Spring Baroque Music Society; become Director of Music at Saint Barnabas Church in Victoria and, most recently, was appointed Music Director of the CapriCCio Vocal Ensemble.