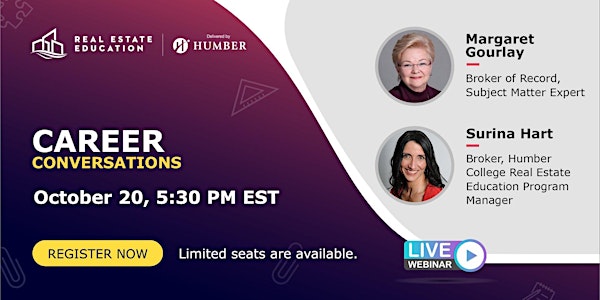 Career Conversations - Now is the Time to Get Started!
Connect live with the experts in the industry to understand why now is the right time to get started in Real Estate Career!
About this event
Welcome to a new edition of Career Conversations hosted by the Humber Real Estate Education Program Office! Join us on October 20 at 5:30 PM EST for our virtual Career Conversations event; a series of free events hosted by the Humber Real Estate Education Program Office. Meet the experts from the Ontario real estate industry and learn about some of the best practices for becoming a successful real estate professional.
In this webinar, you will get a chance to:
- Learn about the wonderful opportunities and skills required for success in the real estate industry
- Explore the changing needs of the industry and how our experts prepare for the future of real estate
- Understand the process to get started with a real estate career in Ontario with the Real Estate Salesperson Program
- Interact live with our panelists and get answers to your questions on launching a career in real estate in Ontario
Reserve your spot today at https://realestate.humber.ca/careerconversations
Don't forget to join us - 10 lucky attendees will win a $15 Amazon gift card!