This bi-weekly webinar and online workshop series highlights unique careers in STEM and provides training for skills to become job-ready.
About this event
Careers in science, technology, engineering and math (STEM) are booming and there is a growing demand for STEM professionals. Governments and organizations are prioritizing innovation creating exciting new spaces across all STEM fields.
Our research has shown that while Canadian youth are interested in STEM fields, they face barriers with understanding and navigating these careers. The Career Hour with S.E.E.D.S. series helps youth learn about unique STEM careers, and helps them build networks and connections to realize their goals!
Register now for our upcoming webinars, see below!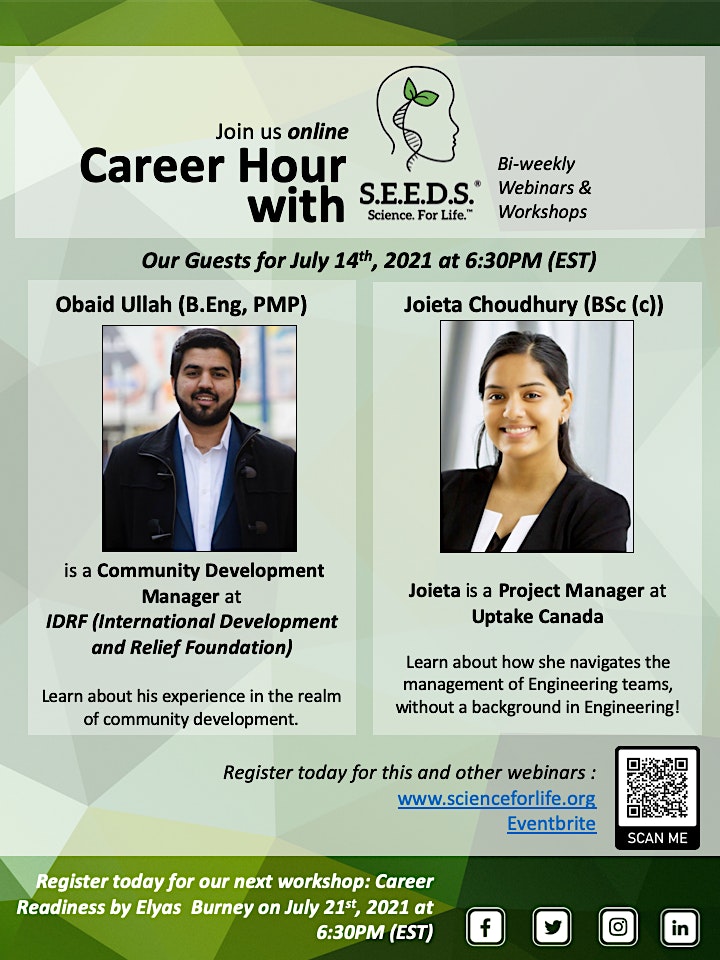 Our first webinar for the 2021 series features Obaid Ullah (B.Eng, PMP) and Joieta Choudhury (BSc (c)) who will be speaking about their experiences in entry level careers in STEM! Learn about how to get your career started, how to gain experience in STEM fields, and how to make the transition to your dream job.
Obaid U. is an aspring social entrepreneur who strives to create lasting impact within communities. With a backtround in mechanical engineering, Obaid will be speaking about how his STEM career has helped him get to his current role at IDRF. At this webinar, we'll learn about how Obaid uses his community development skills to connect with organizations that share similar mandates and collaborate on initiatives to execute IDRF's national and international programs.
Joieta C. is a third-year student at the University of Waterloo studying Science and Business in her third co-op term as a Project Manager at Uptake Canada. During her previous co-op placements, she has worked as a Data Analyst at Metrolinx and a Business Systems Analyst at Hoffmann-La Roche. She will be speaking about her career journey and about the skills that she uses to manage a team and ensure implementation of her company's products and services runs smoothly.