Description
The Celebrate United Services event is a networking opportunity hosted by Career Paths for Skilled Immigrants - Back in Motion. We believe that by building strong cooperative relationships among service providers and community organizations in Richmond, we better help newcomers successfully integrate into their community.
Light refreshments, tea and coffee will be served. This event is open to service providers, clients and the general public.
Speakers:
How Technology Can Connect People and Strengthen a Community
Grant Fengstad, Director of Information Technology, City of Richmond
Careers in Technology
Jacqueline de Raadt, Manager of Executive Initiatives, ASTTBC

From Newcomer to Manager – A Success Story
Meri Ghazaryan, Manager, Global Connections, IEC BC

There will be an opportunity for Q & A after our scheduled speakers.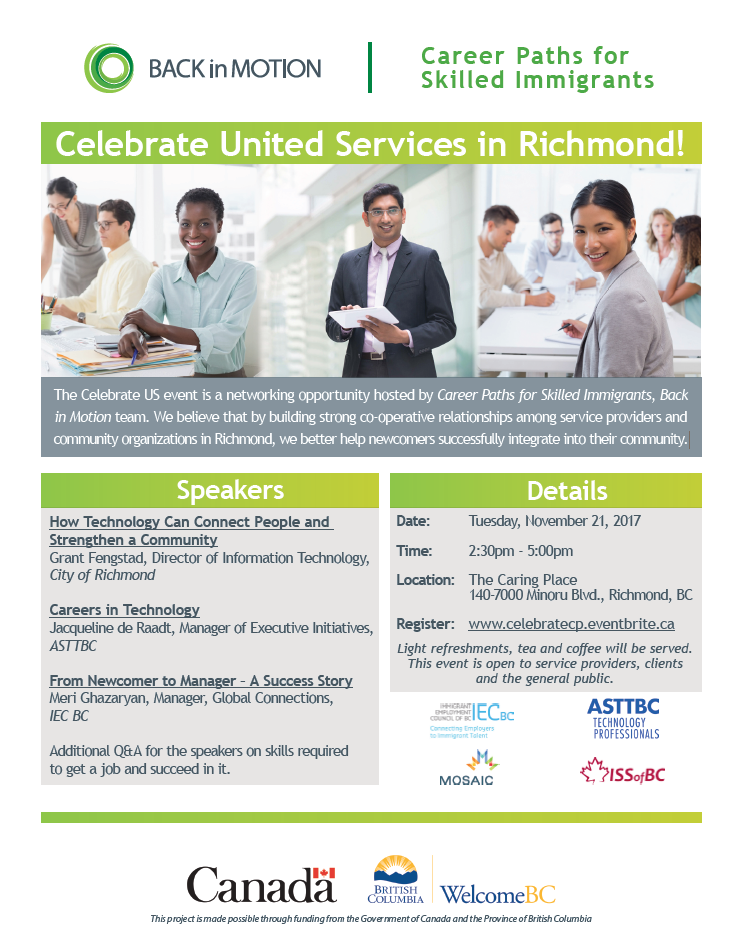 Organizer of Career Paths - Celebrate United Services (Richmond)
Many BC immigrants have skills and experience in occupations where there are shortages of qualified workers, but are often unable to access these jobs in BC. Back in Motion's Career Paths for Skilled Immigrants provides occupation-specific resources and support to help immigrant job seekers move into careers that match their qualifications. Career paths is a free service offered under the WelcomeBC umbrella, funded by the Government of Canada and the Province of British Columbia.
If you are a new immigrant looking for a job that matches your knowledge and skills, you will benefit from Career Paths for Skilled Immigrants. This free program will prepare you for the Canadian job market, using your past education and experience. Career Paths provides connections to help you find a career in your line of work.