Description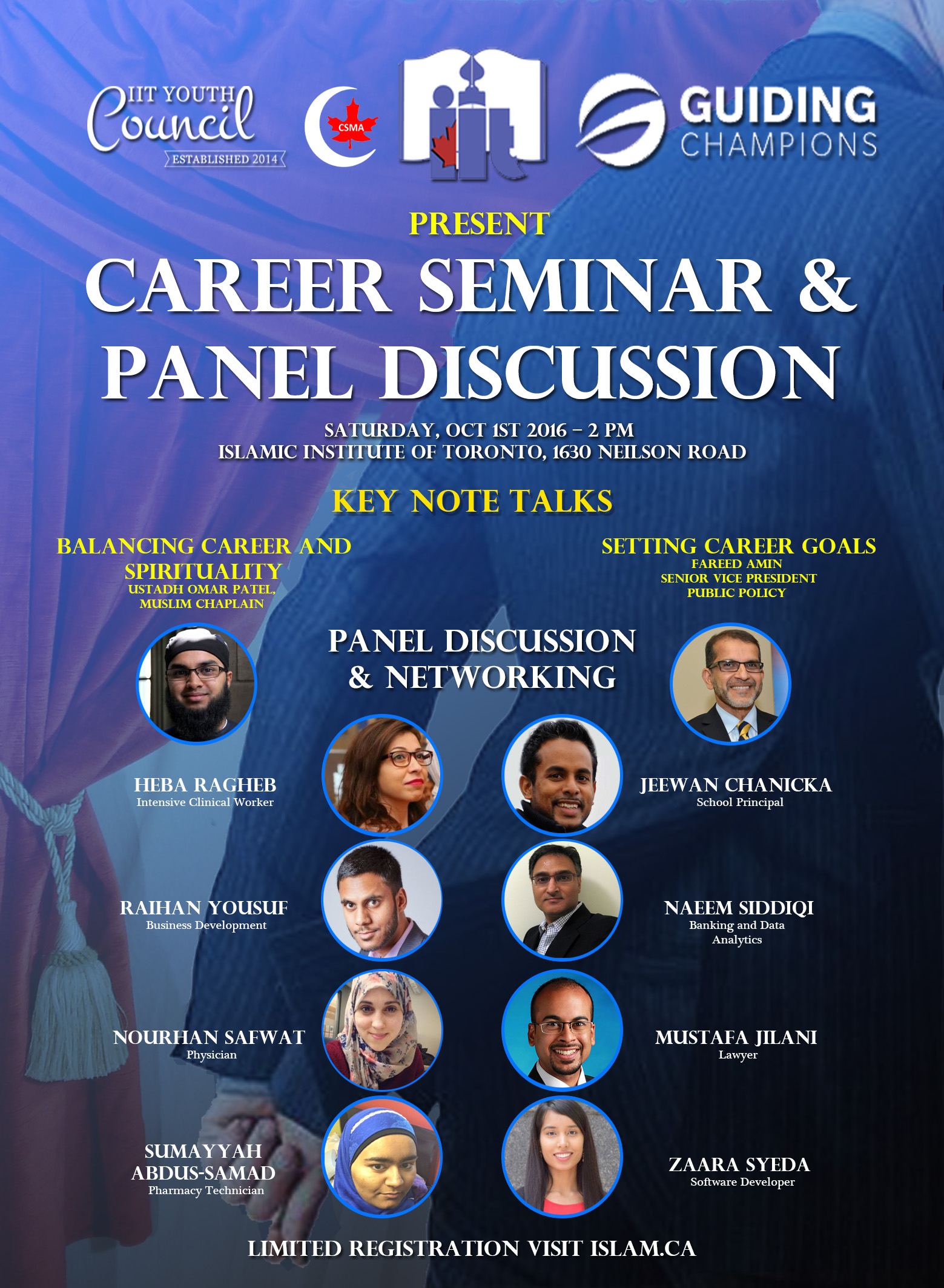 The IIT Youth Council invites you to a Career Seminar and Panel Discussion on October 1, 2016. The event will be an opportunity for highschool/post-secondary students and parents to listen from a variety of career professionals on their respective career fields and opportunities. The event will also include a networking session during which students and parents will get an opportunity to interact directly with the speakers.
1. Balancing Career and Spirituality- Ustadh Omar Patel, Muslim Chaplain, UofT Scarborough
2. Setting Career Goals- Fareed Amin, Senior Vice President, Walton Global Investments
COLLEGE PRESENTATIONS
1. Christina Jodrell- Student Recruiter, Centennial College
2. Kevin Richardson- Student Recruiter, Seneca College
PANEL DISCUSSION & NETWORKING
1. Heba Ragheb - Intensive Clinical Worker, Child and Family Centre
2. Jeewan Chanicka - School Principal, York Region School Board
3. Raihan Yousuf - Business Development, Netsuite
4. Naeem Siddiqi - Director, SAS Institute (Banking and Data Analytics)
5. Nourhan Safwan - Physician, Sunnybrook Health Sciences Centre
6. Mustafa Jilani - Lawyer, KSM Law Firm
7. Sumayyah Abdus-Samad - Pharmacy Technician, St. Michael's Hospital
8. Zaara Syeda - Software Developer, IBM and FetchZone
Presented to you by the IIT Youth Council in collaboration with Guiding Champions.