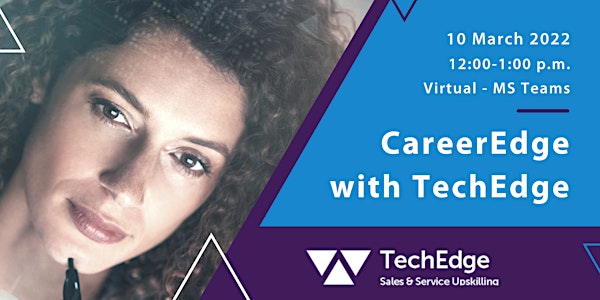 CareerEdge w/ TechEdge: Be Your Own Hero, Empower Your Job Search
Be Your Own Hero! Empower Yourself and take Ownership of Your Job Search
About this event
HERO is an empowerment approach designed to champion job seekers to stay committed to finding meaningful employment. This approach supports the process of discovering your unique personal qualities, your purpose, your superpowers, and what's possible during this time. Personal and professional development sets you up for sustainable success in the areas that matter most.
HERO approach is designed to:
Strengthen your self confidence and mindset
Connect with Heart, Enthusiasm, Resilience and Ownership, to begin laying an unshakeable personal foundation that will help you withstand the inevitable challenges during job search.
In this Public Workshop we will explore the first two elements in being your own job search HERO – Heart and Enthusiasm!
This Workshop is provided by WCG's TechEdge Sales and Service Upskilling.
TechEdge Sales and Service Upskilling is a new 12 Week intensive and interactive virtual employment service designed to propel jobseekers into in-demand technical customer service and sales positions in Calgary's emerging tech sector. And because it's funded by the Government of Alberta, this service is delivered at no cost to you.
To learn more about how TechEdge can give you an' Edge' in starting your new Tech Career visit our website: www.techedgeservice.com