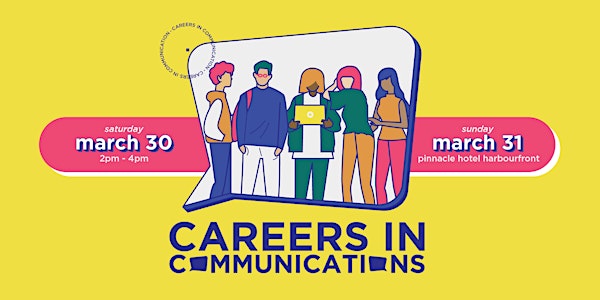 Careers In Communications
When and where
Location
Pinnacle Hotel Harbourfront 1133 West Hastings Street Vancouver, BC V6E 3T3 Canada
Description
So… What are you going to do with that degree? What can you do with Communications? But doesn't everyone already know how to communicate?
Our annual Careers in Communications networking conference is back and bigger than ever. This is our most anticipated event of the year, created in response to those seemingly unavoidable questions that we, Communication students, get asked all the time. What can we do with Communications? It's hard to answer those questions in a sentence, not because there's nothing to say, but rather because there's so much to say about our field's diversity, complexity, and range of opportunity.
For the first time ever, CMNSU presents Careers in Communications 2019, a two day conference to bring a more inclusive, diverse, and accessible opportunity for students within and beyond Communications. Students will be able to interact with industry professionals and ask them questions about their profession, and the working world they will be entering following graduation in a small round-table setting. Each day will have a different lineup of industry professionals from a variety of communication concentrations, including content creators, marketing managers, journalism, environmental communications, and more.
We aim to create a space for students from first years to those almost graduating to feel welcome in conversation, engaged in the community, and most importantly experience that networking can be fun, and not all that scary.
*Please check our socials @CMNSU to keep up with our Industry Professional Announcements!
*A Google Survey will be emailed out to attendees depending on ticket type (2 Day Pass, Day 1, or Day 2) to select students' Top 5 Industry Professional for the roundtables, where 3/5 will be arranged by the CMNSU. The surveys will be sent out closer to the date of the event, so please try not to wait until the last minute to purchase your tickets due to the nature of the event.
Event Schedule:
1. DOORS OPEN AT 1:30 PM
2. Event starts at 2:00 pm - Introductions and welcome
3. Roundtable #1
4. Roundtable #2
5. Roundtable #3
6. Event ends at 4:00 pm - Closing and networking

See you there!