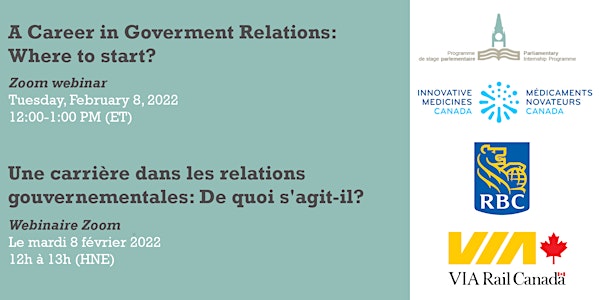 Careers in Gov. Relations - Carrières dans les relations gouvernementales
Join GR experts from across sectors as we discuss what GR is all about, and explore whether it's a career path for you.
About this event
(Le français suit)
A Career in Government Relations: Where to start?
What is government relations? Is this a career path for me? What skills do I need to succeed in this field? Our panelists are ready to discuss these questions and more.
Join the Parliamentary Internship Programme and Programme sponsors on February 8, 2022 from 12:00-1:00 pm EST for a free virtual event. In a panel discussion, accompanied by a Q&A session, panelists will share their experiences and give career advice to young people interested in politics and policy.
If you are a student or recent graduate interested in a career related to politics, or simply curious to learn more, this event is for you!
Presenters
Pascal Chan - Director, Government Affairs, Innovative Medicine Canada
Iman Mohamed - Director, Policy and Research, Federation of Canadian Municipalities (PIP Alumni)
Eve-Danièle Veilleux - Senior Advisor, Government and Community Relations, VIA Rail Canada
George Wamala - Director, Regulatory & Government Affairs, RBC
For more information on the Parliamentary Internship Programme, visit www.pip-psp.org.
---------------------------------------------
Une carrière dans les relations gouvernementales : De quoi s'agit-il? ; Est-ce pour moi?
En quoi consistent les relations avec le gouvernement ? S'agit-il d'un cheminement de carrière pour moi ? Quelles sont les compétences nécessaires pour réussir dans ce domaine ? Nos panélistes sont prêts à discuter de ces questions et plus encore.
Joignez-vous au Programme de stage parlementaire et aux commanditaires du programme le 8 février 2022, de 12 h à 13 h HNE, pour un événement virtuel gratuit. Dans le cadre d'une discussion en groupe, accompagnée d'une séance de questions-réponses, les panélistes partageront leurs expériences et donneront des conseils de carrière aux jeunes qui s'intéressent à la politique.
Si vous êtes un étudiant ou un jeune diplômé intéressé par une carrière liée à la politique, ou simplement curieux d'en savoir plus, cet événement est pour vous !
Intervenants
Pascal Chan - Directeur, Affaires gouvernementales, Médicaments Novateurs Canada
Iman Mohamed - Directrice, Politique et recherche, Fédération canadienne des municipalités
Eve-Danièle Veilleux - Conseillère principale, relations avec les gouvernements et les collectivités, Via Rail Canada
George Wamala - Directeur, Affaires réglementaires et gouvernementales, RBC
Pour plus d'informations sur le Programme de stage parlementaire, visitez www.pip-psp.org.