Tune in on Rogers Cable 22 or live on Mayor Jim Watson's Facebook page to hear extraordinary stories of Carefor staff and our value.
About this event
Join us on December 10th for our Virtual Safe at Home Gala!
With help from our communities, donors and staff, Carefor is able to continue the work we do to keep those most vulnerable safe, connected and supported at home. This hour-long event is a celebration of YOU, Ottawa. Thank you for helping Carefor take care of the generation that took such great care of all of us, especially during this year of uncertainty.
We will be joined by special guests including Mayor Jim Watson and esteemed local culinary author, Margaret Dickenson. We'll also have some holiday favourites from local crooner, Shawn Marino.
Reserve your FREE virtual seat and join us on:
Thursday, December 10 at 7:00 p.m.
Rogers Cable 22 or LIVE on Mayor Jim Watson's Facebook page.
--
By reserving your virtual seat, your name will be entered into a draw for a chance to win 1 of 10 food baskets donated to Carefor from Ottawa's renowned Chef David Godsoe of Restaurant E18hteen and Reif Estate Winery!
For more information about the Carefor Virtual Safe at Home Gala, email rduetta@carefor.ca or call 613-558-9568.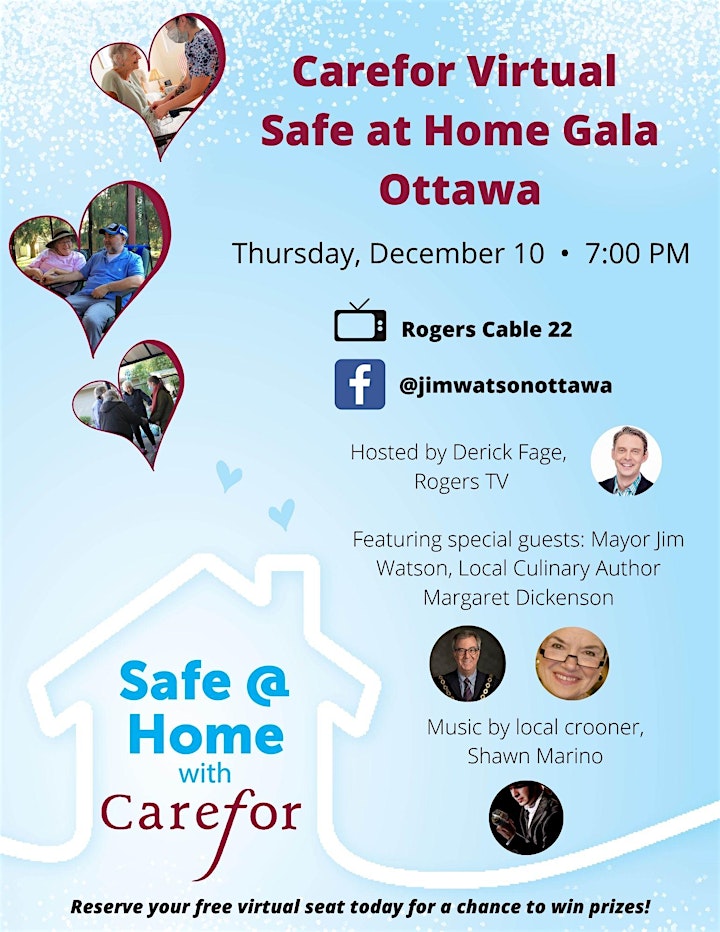 Organizer of Carefor's Safe @ Home Gala