5th Annual CARE™ Congress
About this event
This meeting aims to address questions and considerations regarding Biosimilars in Canada and how they build towards a larger discussion on access to innovative medicine.
The meeting included discussion and provided a platform for medical specialists and key stakeholders across multiple fields to meet, collaborate, and discuss concepts that have a practical impact on the Canadian healthcare landscape.
Join the meeting https://careeducation.ca/web-events-care-congress-2021/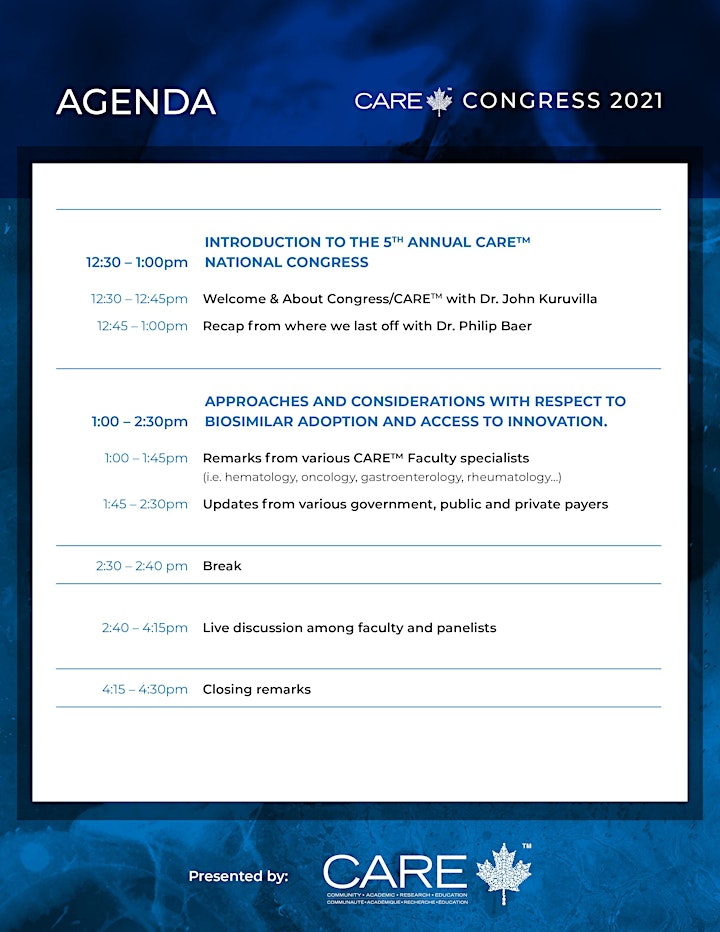 Organizer of CARE™ National Congress
CARE™ (Community. Academic. Research. Education) programs provide pan-Canadian specialists opportunities to meet, discuss, and try to fill gaps in knowledge. CARE™ programs are led by key opinion leaders from across Canada, known as the CARE™ Faculty. Faculty members meet throughout the year to discuss news and developments from key conferences in Canada and internationally, and to develop educational initiatives. These education pieces aim to keep Canadian specialists aware of medical news, framed from a Canadian perspective. The CARE™ Faculty examines data on the care and treatment of various disease categories, with the aim of achieving optimal results for patients.