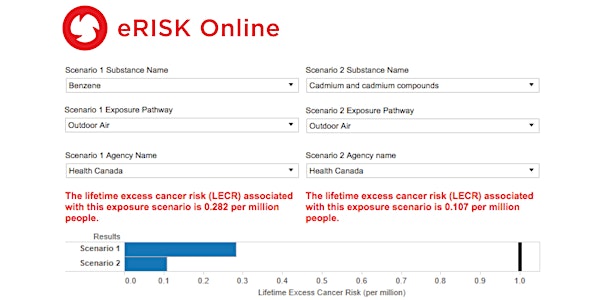 CAREX Canada Webinar: How to use the new eRISK Online tool
Description
eRISK Online is an interactive tool developed by CAREX Canada that allows users to explore the cancer risk associated with exposures to known and suspected carcinogens in the environment. These screening-level risk estimates allow users to compare substances and exposure pathways, and supports priority setting for exposure reduction efforts.
This webinar will show users how to navigate the tool, and interpret the lifetime excess cancer risk (LECR) results it generates. We will also demonstrate some of the possible applications and questions the tool can help to answer, such as:
What is the most significant pathway for cancer risk from radon exposure?

There is concern about arsenic in my community's drinking water. What is the cancer risk associated with this exposure?

How does the air quality in my region impact the cancer risk in my community?


Speakers:
Paleah Black Moher, Toxicology specialist, Environmental Exposures, CAREX Canada
Kristian Larsen, GIS specialist, Environmental Exposures, CAREX Canada


Background information:
CAREX Canada's eRISK Online Tool (2017)
CAREX Canada's eRISK Online User Manual (2017)


More about eRISK Online
eRISK Online currently offers five exposure pathways - outdoor air, indoor air, dust, soil, and drinking water - and over 30 substances - including radon, asbestos, and formaldehyde - to explore. You can compare up to two exposure scenarios at a time, and an interactive graph visualizes your results. You can also enter your own environmental concentration data to create custom estimates, which can then be compared to national averages.