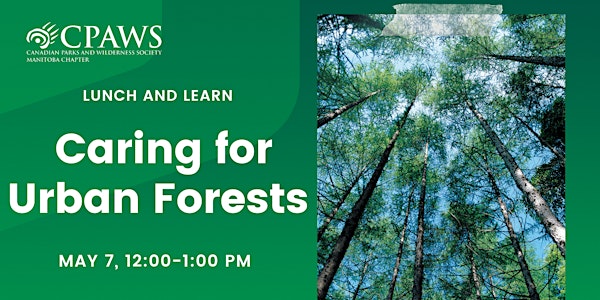 Caring for Urban Forests: Why Trees Matter
Find out how to care for trees and how they can help to protect your home from flooding, lower your energy bill and so much more.
About this event
--Caring for Urban Forests: Why Trees Matter--
The trees in your neighbourhood offer a lot more than shade.
There are many health, safety, economic and climate benefits to preserving Canada's urban forests. They are valuable natural assets and a much-loved feature of the urban landscape.
Join CPAWS Manitoba and Trees Please Winnipeg in an inspiring webinar that aims to change the way we think about trees. You'll learn about the real, tangible financial impact trees have on neighbourhoods, the threats our trees now face and what you can do to protect and expand our canopy.
About the organizations:
Trees Please Winnipeg is a community tree advocacy organization that works to call attention to the urban forest crisis and the need for sustainable investment strategies for urban forests.
They lobby all levels of government to make long-term sustainable infrastructure investment available to cities like Winnipeg for the maintenance, diversification and expansion of urban forests.
--Lunch and Learns--
Nature has been here for us during the pandemic.
Parks became a refuge for people seeking safe spaces to escape the stress of the world. Provincial campsites were fully booked on summer weekends. Trails were so popular parking lots overflowed onto highways.
CPAWS Manitoba wants to maintain this positive connection to nature by providing a space for Manitobans to connect online from the safety of our homes and be inspired by nature in our backyards.
Join CPAWS Manitoba for weekly lunch and learn presentations from experts across Manitoba who will share their knowledge and passion and bring new nature-inspired activities into our lives.
*** This program is possible thanks to the generous support of The Winnipeg Foundation and the Conservation Trust, a Manitoba Climate and Green Plan Initiative delivered by the Manitoba Habitat Heritage Corporation. ***