Description
This is the live sketch comedy show that you will want to escape to and never leave!

Carmelahhh Presents: The Great Escape will take you on a first-class voyage through Carla and Racquel's happy places when their going gets too tough. Experience their intimate thoughts and opinions, and revel in their favourite hiding places until they have to go back and face reality.
With special guests:
Randee Neumeyer
Brett Skillen
Marta Wesselhoff
Nima Gholamipour
Adam Pateman


Doors at 7:30pm, show at 8:30pm!
All drinks are cheap, cheap, CHEAP! (Cash bar)
Tickets are $10 online (not including fees), and $12 at the door!

OR grab our $15 combo deal!
~~~~~~~~~~~~~~~~~~~~~~~~~~~~~~~~~~~~~~~~~~~~

ONE NIGHT - TWO SHOWS - ONE HOT DEAL!!!!
Watch Carmelahhh at 8:30pm and stick around for Brunch at 10:30pm!

Get both shows for ONLY $15 (fees included!!)
That's one hell of a deal for DOUBLE THE COMEDY!!

BUY NOW in our ticket options (Carmelahhh and Brunch Comedy Combo DEAL)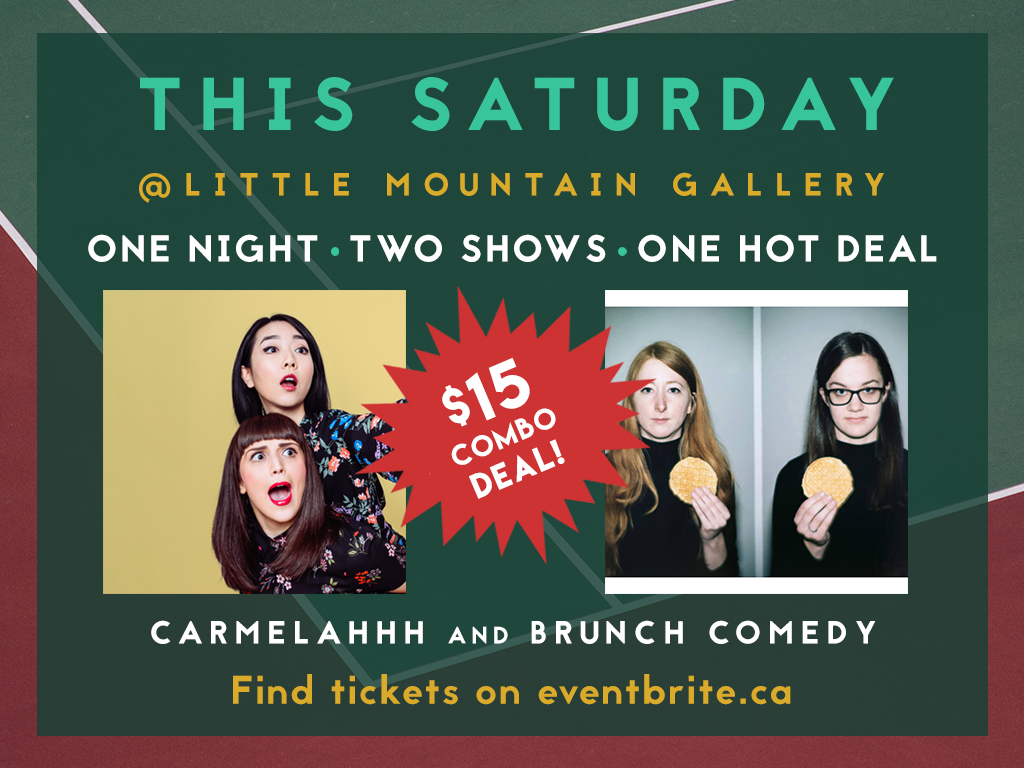 ~~~~~~~~~~~~~~~~~~~~~~~~~~~~~~~~~~~~~~~~~~~~
What does Brunch Comedy have in store for you?

Kerri Donaldson & Allie Entwistle present Brunch: A Comedy Show -- An improv and sketch comedy show brought to you by two women raised on Mary Kate & Ashley movies + Celine Dion's greatest hits. They've been selected to perform at the Portland Sketch Comedy Festival, Montreal Sketchfest, and Toronto Sketchfest & now they're ready to perform for YOU at Little Mountain Gallery.

ALSO --- This show we ask ourselves: Are we the all-sister power ballad band, HAIM? Could we be? We have long hair, denim jackets and cool attitudes, so we think there's a strong chance we could be. Stop by to find out!!!

For Brunch ONLY tickets + more information: https://www.eventbrite.ca/e/brunch-a-comedy-show-tickets-44824346828