About this Event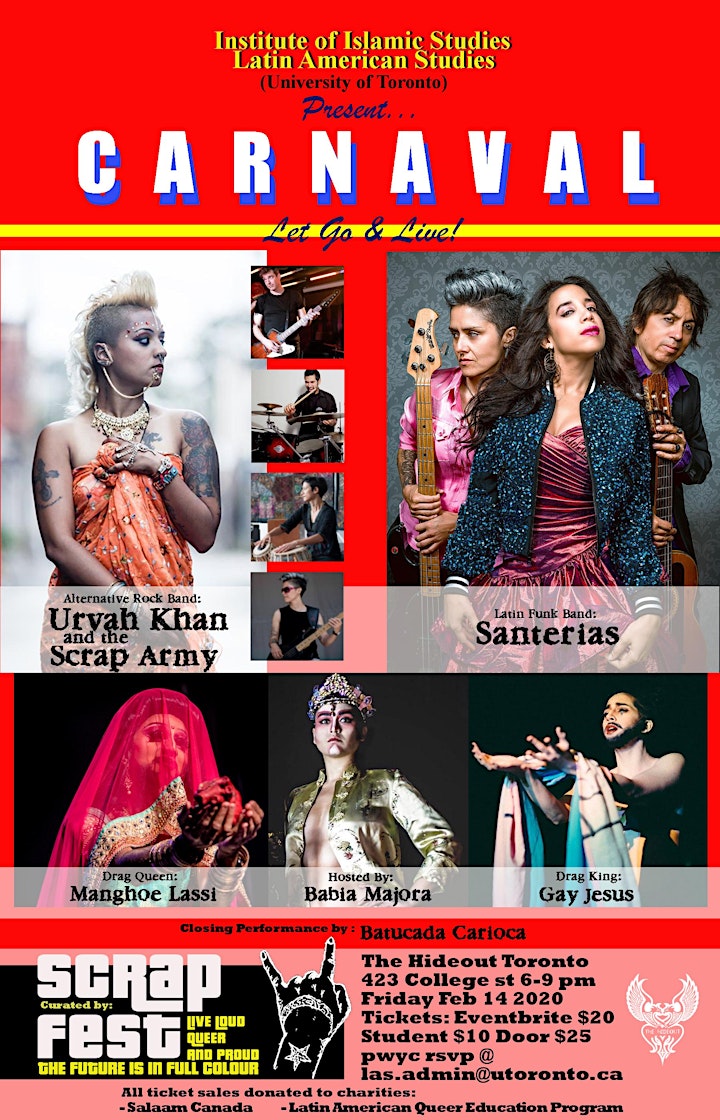 Institute of Islamic studies & the Latin American Studies from the University of Toronto present: CARNAVAL (Let go & Live)
Featuring Perfomances by:
Urvah Khan & The Scrap Army: Urvah Khan was born in Karachi, Pakistan and arrived in Canada with her family as a teenager. The daunting task of fitting into North American culture as a non-conforming foreigner was at times overwhelming. This backdrop has shaped Khan's path as an artist, and has furnished a desire to provide a safe performance environment for artists who share a similar experience. Currently Khan resides in Toronto and over ten years has gained a worldwide following through her performances, online music and video releases. Her unique story and musical style have been recognized by BBC, CBC, Noisey/ Vice, as well as Sports Centre LA (during the Winter X Games,) among many other prominent outlets. Come watch Urvah Khan celebrate her origins with the release of her debut Urdu album entitled; Muhajir (the Immigrant songs). Joining her on stage will be her live band, The Scrap Army; Ruben Huizenga on guitar, Randolf Jimenez on drums, Oriana Barbato on bass & Anita Katakkar on tabla. - www.UrvahKhan.com
Santerias: The word Santerías represents a cultural fusion where dance and music are fundamental ingredients for healing. This band proposes the use of their dynamic music as a universal healing language. Music that is a mystical blend of old and new world influences and of tribal rhythms expressing themselves in the gospels of popular song. The heartfelt guitar runs along with the beat-inducing electric bass, while the drums transport the rhythms to funky Latin locales. Sultry vocals breathe out Bossa tales that teasingly take each song to a mysterious musical place occupied exclusively by Santerías. Band members include Ana Lía Arias Garrido on lead vocals; Juan Dino Toledo on guitar and backing vocals; Oriana Barbato on bass and backing vocals; and Randolf Jimenez on drums and backing vocals. - www.santeriasband.com
MangHoe Lassi: Humza A. Mian aka Manghoe Lassi is a queer Canadian-Pakistani who currently resides in the GTA. He is a Registered Veterinary Technician who works in the downtown core, and a drag queen who has made a big splash on social media over the last two years. The focus of his drag is to bring awareness to the existence of queer Desi folk and breaking the chains of toxic masculinity that hold so many queer Desi's back from expressing themselves. With the help of brands run primarily by PoC, Humza has branched into the world of commercial makeup artistry and is currently focusing on representing brands that encourage diversity and inclusion. His most current drag looks can be seen on his Instagram page and are heavily influenced by his cultural background. - www.Instagram.com/_humzer
Gay Jesus: Heath V. Salazar was raised Roman Catholic, where they were taught that was Jesus represented love and doing good."Then all of a sudden, as a queer person, you have it flipped on you that it's shameful or that they'd be ashamed of you," Salazar says. For Salazar, drag is knowing that "presentation determines your level of safety when you leave the house." "It's understanding the everyday impact of a history of hatred towards women," they say. "It's peering through when racism attempts to veil itself as wokeness. It's dismantling a system that works to make itself increasingly more comfortable by devaluing the lives of those it deems unworthy. It's coming to a country for safety and finding the roots of its history to be compromised. It's speaking to an audience that's been told they're better off dead and telling them they have a right to wake up in the morning. It's thanking those who came before me." - www,Instgram.com/theirholiness
Batucada Carioca: Batucada Carioca is a Toronto-based samba bateria that has authentically represented the rhythms of Rio de Janeiro's samba schools and Carnaval for over 10 years. Founded and led by carioca (Rio-born) Maninho Costa. The group is made up of 25-30 percussionists from the local community consisting of Brazilians, Canadians and many other cultural backgrounds. Batucada Carioca's colours are blue and white, sending homage to Portela, one of the oldest and most traditional samba schools of Rio. Batucada Carioca's show is full of excitement and guarantees to get you dancing! - www.batucadacarioca.com
Hosted by: Babia Majora
Curated by: SCRAPFEST: ScrapFest is a multicultural, immigrant friendly indie music series showcasing alternative artists with varied geopolitical backgrounds and a common outsider perspective. ScrapFest seeks to bridge cultural differences by showcasing artists with a shared queer inclusive narrative. Actually, we just want to have to have fun. "Live loud queer and proud. The future is in full colour."
- www.ScrapFest.Live
AT: The Hideout Toronto, 423 College st, Feb 14/2020
Doors open @ 6PM
Show 6:30pm- 9:30pm
Book your tickets now: Eventbrite $20
Student $10 w/ ID
Door $25
PWYC RSVP: Please email Las.admin@uoft.ca