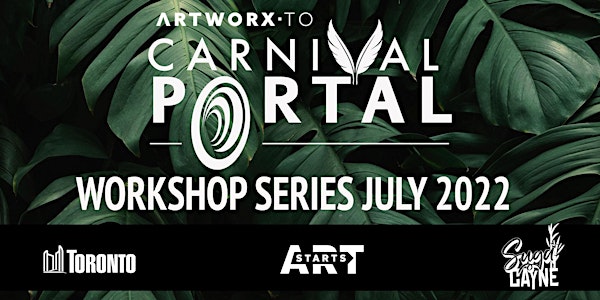 Carnival Portal: Carnival Curious Poster Making with Ashley T.
Location
Yorkdale Shopping Centre, Art Starts Studio
3401 Dufferin Street
Find the long hallway between the small Nike sign and the Sunglass Hut, across from Zara. This hallway will take you to the elevators. You can take it down to "LL" and turn right through the doors to find the Art Starts studio.
Toronto, ON M6A 2T9
Canada
In collaboration with Arts Etobicoke with , ArtworxTO presents workshops every Saturday in July to get you ready for Carnival.
About this event
The Carnival Curious Poster Making Workshop invites participants to embrace their Caribbean heritage and celebrate it loudly and proudly by creating posters with vibrant colours and mixed media materials.
The workshop will provide a variety of poster boards, cardstock, foil paper, feathers, gemstones, and more for participants of all ages to use to capture what Carnival means to them.
About the instructor, Ashley T:
As a young, Black Biracial, Bisexual Woman with Type II Bipolar Disorder from Toronto, Ashley T. has coined herself as the "Bi-Fecta". She is a multidisciplinary artist who creates within the realms of abstract visual art, literary art, and performance art. She works with diverse materials spanning from acrylic paints on canvas, to ink on paper, to her voice on the mic, to her body on the stage. She uses art to ground and remind herself of the power she possesses to be a positive change in this world. Each piece she creates is a small chapter of her visual memoire.
Please be advised that this workshop will be filmed for inclusion in a feature film documentary, tentatively titled "Soaked In Carnival". In registering for this workshop, you acknowledge that you have been informed that you may be photographed and recorded as part of the release on film and/or any and all media now known or hereafter devised, in perpetuity, throughout the universe and the advertising and publicity thereof. Further, by your presence here, you grant permission for your likeness and voice to be included therein without compensation, credit or other consideration.