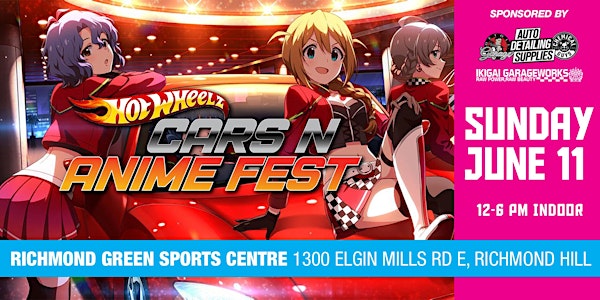 CARS 'N' ANIME FEST
Welcome to CARS 'N' ANIME FEST Car Show and Anime Festival. See Itasha and Modified Cars, Anime, Cosplay, Vendors, Awards, Games and more
Date and time
Sun, Jun 11, 2023 12:00 PM - 6:00 PM EDT
Location
Richmond Green Sports Complex 1300 Elgin Mills Rd E L4S 1M5 Richmonndhill, ON L4S 1M5 Canada
Refund Policy
Contact the organizer to request a refund.
Eventbrite's fee is nonrefundable.
About this event
WELCOME TO CARS 'N' ANIME FEST
CARS 'N' ANIME FEST Car Show and Anime festival debuts on Sunday June 11 2023 12-6pm
Richmond Green Sports |Park and Center. Come experience our car show and anime festival with over 60+ awards & more!
Cars, Anime, Cosplay. Experience the fun and excitement from the car and anime scene. Enjoy vendors, show cars, cosplay, awards, and more.
Indoor Car Show
Car Show Awards
Cosplay Awards
Vendors, Itasha and Modified Cars
This is a Cosplay fun car show event that's indoor at Richmond Green Sports Complex. You can register your car or just come and have some fun at this event.
ALL IN COSPLAY are half price at the door.
COSPLAY/COSTUMES ARE NOT REQUIRED BUT HIGHLY ENCOURAGED FOR THE THEME OF THE EVENT.
Cars N Anime Fest Sponsored by Detail Garage* Ikigai Garageworks* Helping Hand Inc.
Proceeds to HEMOPHILIA ONTARIO. Thank you for your support
***** SHOW DETAILS *****
ONLINE REGISTRATION IS OPEN
⭐️$80 REGISTRATION INCLUDES
⭐️Registration,
⭐️Entry fee and extra ticket for passenger,
⭐️Complementary registration gift bag
* Limited edition T-Shirt while supplies last
⭐ Additional raffle tickets to have a chance to win a trip to Tokyo Auto Salon and other prizes
⭐️You will have a chance to win other great prizes and more OVER 60 awards.
ROLL IN BEGINS AT 9am for all Vendors and show cars
⭐️JUST ADDED!
OUTDOOR REGISTRATION OPEN TO ALL MAKES AND MODELS
$50 OUTDOOR REGISTRATION INCLUDES
⭐️Registration
⭐️Entry fee and ticket for passenger
⭐️Registration SWAG
⭐️ additional raffle tickets to a trip to Tokyo Auto Salon and other prizes
⭐️You will have a chance to win OVER 60 awards.
General Admission: 12 PM to 6 PM
All spectators $20 (Free outdoor parking)
⭐️Buy tickets online to receive
⭐️ Limited edition decal and free raffle tickets
⭐️Children: 12 and Under - FREE ADMISSION
⭐️Spectators can win great prizes and awards
⭐️ * A trip to Tokyo Auto Salon The Fan Con seasons pass and more
Spectators can BUY YOUR TICKETS AT THE DOOR
*Prices are more at the door (get your tickets online)
**** LOCATION *****
⭐️RICHMOND GREEN SPORTS PARK AND COMPLEX
1300 Elgin Mills Rd E, Richmond Hill, ON L4S 1M5
******************⭐️⭐️⭐️⭐️⭐️**************
🔺 Sunday JUNE 11 from 12-6pm
Show features
🆕⭐️WIN A FAN CON SEASONS PASS TO 5 OF THE BIGGEST FAN CON SHOWS as a raffle prize ⭐️
🆕✈️ Win a trip to Tokyo Auto Salon
🔹Over 50 awards, giveaways, games, fun, vendors,cosplay models,
🆕🔹E gaming tournament with grand prize
🔹Hype DJ's and stage entertainment,
🆕🔹Cosplay competition $500 prize along with Kids cosplay and group cosplay contest
🔹2 Step competition $200 prize
🔹Talent/Voice over contest
🆕 Shop with some new car and anime theme Vendors!
All the fun you can expect from the Hot Wheelz car show and more.
Donations don't only happen at Christmas, we will have a donation set up for Hemophilia Ontario . So let's do good.
REGISTER AT hotwheelz.ca.⚠️Register today!
***** CARS N ANIME FEST SWAG *****
⭐️CNAF will be giving out Registration gifts to all that register!
***** CONTEST ***
CNAF will be hosting many contest.
⭐️2 Step Contest Winner will receive $200 CASH PRIZE and award
⭐️Talent and Voice over winner will receive an amazing prize package
⭐️Best of show will receive an all new award
⭐️Cosplay contest for adults, kids and groups
⭐️Everyone has a chance to win a trip to Tokyo Auto Salon, and more
⭐️Cosplay contest with the $500 grand prize. *Please register yourself to be a contestant online or at the Hot Wheelz booth
⭐️The 2 step, Sound, winners will be determined via judges and interaction at the show. Please ensure that you are ready to impress, compete and win!
***** DONATIONS *****
⭐️Proceeds will be given to Hemophilia Ontario .Hemophilia is a bleeding disorder that affects approximately 1 in 10,000 people. People with hemophilia do not have enough clotting factor VIII or IX in their blood. As a result, they can bleed for longer than normal. Carriers of Hemophilia can also experience similar bleeding patterns and require treatment.
***** LIVE ENTERTAINMENT *****
⭐️Experience our live entertainment, featuring live DJ and anime enthusiast Golden Dj Q, Dj Mecha and MC hosting the hourly raffles throughout the show and contest.
***** CONTACT US *****
If you have any questions about our event, please contact us at hotwheelz2k@gmail.com
Follow us on instagram for daily updates leading to day of show - @hotwheelzcarshow