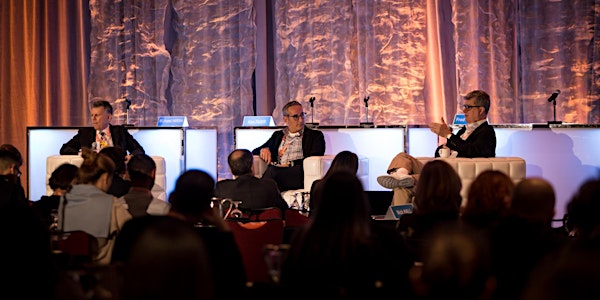 CARTOON CONNECTION CANADA 2018
When and where
Location
Centre des congrès de Québec 1000 Boulevard René-Lévesque Est Ville de Québec, QC G1A 1B4 Canada
Refund Policy
Contact the organizer to request a refund.
Description

(version française plus bas sur cette page)
REGISTRATION INFO
This page is for the registration of participants from America (North, South and Central) or anywhere outside of Europe. If you are from Europe, your registration must go through our European co-organizer CARTOON. Click HERE
WHAT IS CARTOON CONNECTION CANADA ?
CCC 2018 will gather up to 200 animation professionals mainly from Europe, Canada and Latin America. This event intends to promote creative and commercial links through activities such as high end conferences, one-to-one meetings, social networking dinners and cocktails.
PROGRAMME 2018 (not yet available)
ACCOMMODATION
Participants will stay at the 4 star Delta Hotel linked to Québec City Convention Center by an underground passage. To take advantage of our group pricing of $219 per night, single or double occupancy, click HERE for the online reservation or call the toll free number 1-844-860-3756

IMPORTANT
If you want to take advantage of the easy, worry free, online selection for your one-on-one meetings, you have to register before September 2nd (postpone to Friday September 14th) . Everyone who registers after that date will have a blank rendez-vous sheet for the one-on-one meetings. You will be able to set your meetings on site on October 2nd and 3rd with the help of our staff. Even if it is too late to choose your meetings online, you will still have access to the list of participants. This way you will be able to make a list in advance of the people you would like to meet.
INCLUDED WITH YOUR REGISTRATION
- 1/2 day of keynotes and panels
- 1 1/2 day of one-to-one meetings
- 2 lunches
- 2 cocktails
- 2 dinners
- 4 coffee breaks
- Local transportation to activities outside of the event venue
NOT INCLUDED WITH YOUR REGISTRATION
- Accommodation
- Breakfasts
- National and international transportation
- The shuttle between the airport and the hotel
- Any meals not taken with the group
---
CARTOON CONNECTION CANADA 2018
INSCRIPTION
Cette page est exclusivement pour l'inscription des participants de l'Amérique du Nord, du Sud et Centrale, ou tout endroit autre que l'Europe.
Si vous êtes de l'Europe, votre inscription doit être faite auprès de nos co-organisateurs de la Belgique, CARTOON. Cliquer ICI
QUELQUES DÉTAILS
Le CCC 2018 réunira jusqu'à 200 professionnels de l'animation en majeur partie de l'Europe, du Canada et de l'Amérique latine. Cet événement vise à promouvoir des liens créatifs et commerciaux par des activités telles des conférences de haut niveau, des rencontres bi-latérales de type "B2B" et des activités de réseautage.
PROGRAMMATION 2018 (à venir)
HÉBERGEMENT
Les participants logeront à l'hôtel 4 étoiles Hôtel Delta lié par un sous-terrain au Centre des Congrès de Québec. Pour profiter de notre tarifs de groupe de 219$ en occupation simple ou double, cliquer ICI pour faire la réservation en ligne ou appelez au numéro sans frais 1-844-860-3756.

IMPORTANT
Si vous désirez profiter des avantages de la sélection des rendez-vous en ligne pour les rencontres bi-latérales, il est important de vous inscrire avant le 2 septembre (repoussé au vendredi 14 septembre). Toutes les personnes qui s'inscriront après cette date auront un agenda de rendez-vous vide et devront prendre leurs rendez-vous sur place le 2 et 3 octobre avec l'aide de notre personnel. Même s'il est trop tard pour choisir vos rendez-vous en ligne, vous aurez tout de même accès à la liste des participants pour que vous puissiez vous faire une liste, à l'avance, des personnes que vous aimeriez rencontrer.
LE PRIX DE L'INSCRIPTION INCLUT
- 1/2 journée de conférences et panels
- 1 1/2 journée de rencontres bilatérales de types B2B
- 2 diners
- 2 soupers
- 2 cocktails
- 4 pauses café
- Le transport locat pour les activités qui se tiennent à l'extérieur du lieu de la conférence

N'EST PAS INCLUS DANS LE PRIX DE L'INSCRIPTION
- L'hébergement
- Les petit déjeuners
- Le transport national ou international
- La navette entre l'aéroport et l'hôtel