Multiple Dates
Casa Om Presents... The Dance Deck Six (August 18, 19, 25, 26)
Description
The Dance Deck Six
August 18th, 19th, 25th and 26th 2018 (4:00pm-6:00pm):
An intimate afternoon concert of live music and dance.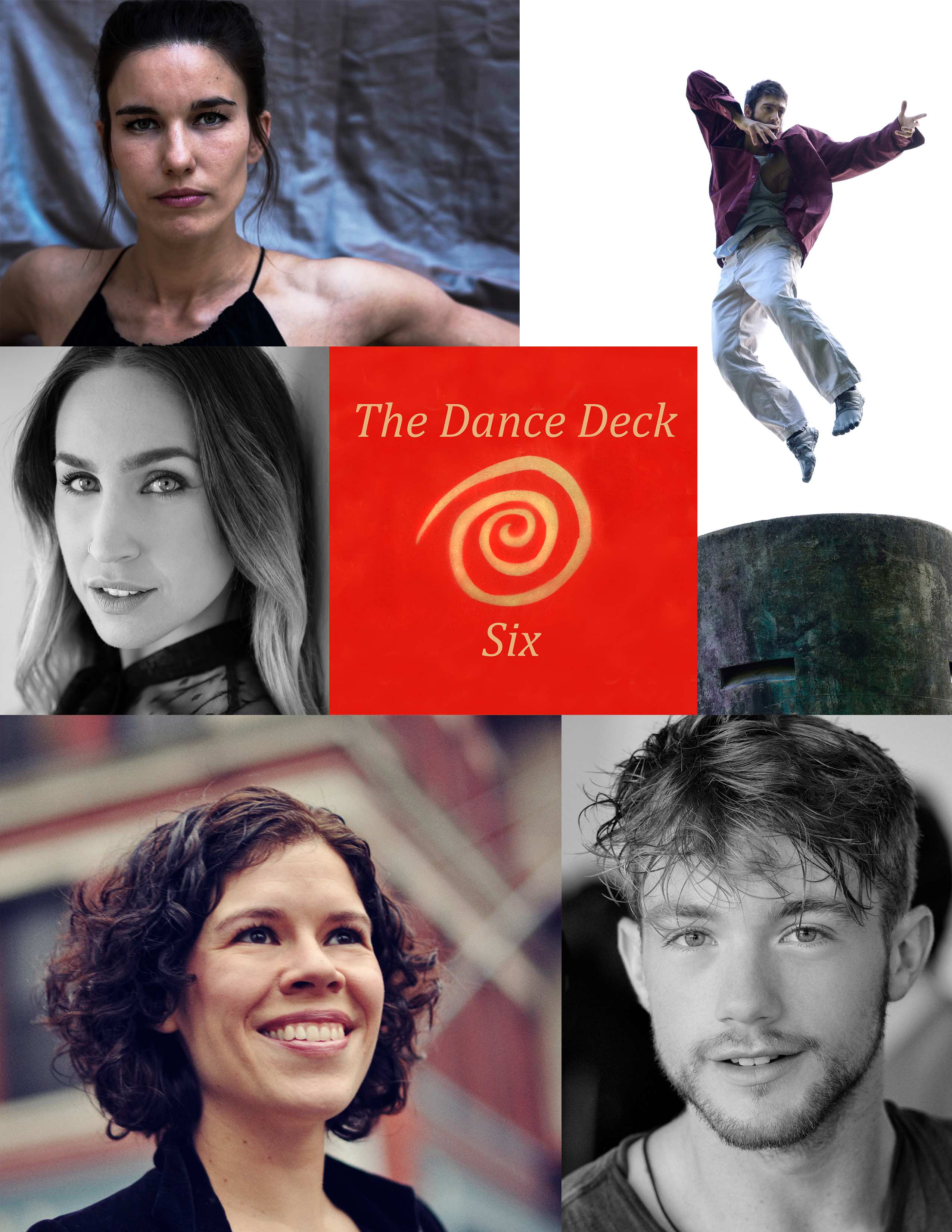 On Instagram @alexisstarfletcher
Featuring creators and performers:
Kirsten Wicklund
Lara Barclay
Dario Dinuzzi
Olivia C. Davies
Sarah Charles-DeCarlo
Alejandra Miranda Cabellero
Emily Long
Dory Hayley
Christoph von Riedemann
Stéphanie Cyr

* Please find artists' biographies at the bottom of the page.


Our house, called "Casa Om," has always been a place of regeneration and creativity. This is our fourth consecutive season of creating this intimate, outdoor performance space in our backyard, where artists have the chance to share their work at a grassroots level. As presenters we strive to give artists a platform where they have the freedom to experiment and share work that is deeply meaningful to them, and we feel passionate about creating an alternative and unique environment from which to share this art with our community.
- $30 tickets online through Eventbrite.
- $35 cash only tickets sold at the door.
We highly encourage you to purchase tickets online since we can only accommodate a limited audience and we would hate to turn you away at the door. We thank you for purchasing tickets in advance and supporting our artists.
There will be an informal dinner reception for audience and performers offered in our house and yard after the show where you can purchase a delicious homecooked meal to further support the artists. We would love to have you stay, meet the artists, and celebrate with us!
Getting here:
~ The #20 bus route comes directly here! Get off at Commercial Drive and Napier Street.
~ Please note that regular street parking guidelines will be in effect. There are meters on Commercial Drive and on the side streets. Some free parking is available on Salisbury St (one block east of Commercial). There is no parking in the back alley or in the permit parking zones.
Artist Biographies:
Kirsten Wicklund studied at Goh Ballet Academy and received scholarships for study at American Ballet Theatre, Royal Winnipeg Ballet, Boston Ballet, PNB, and The Washington Ballet. Awards include; the Vancouver Foundation Arts Study Award, the Vancouver Ballet Society's Memorial Scholarship, the Mary Day Artistry Award at the Youth American Grand Prix in NYC and was the only Canadian to place in the Top 12 Women. She has danced with The Washington Ballet, Alonzo King's choreographic workshop, created works for Dances for a Small Stage, and the Dance Deck Series. She continues to choreograph, teach workshops and adjudicates across Canada and the US. Kirsten joined Ballet BC in 2014 where she has been privileged to dance works by Lesley Telford, Medhi Walerski, William Forsythe, Emmanuel Gat, Wen Wei Wang, Cayetano Soto, Johan Inger, Walter Mateini, Emily Molnar, Crystal Pite, Ohad Naharin, Sharon Eyal, and others. Kirsten appreciates the collaborative nature of Ballet BC and the opportunity to create new works as well as continue performing the company's existing repertoire. As a certified yoga teacher she enjoys studying and practicing a variety of movement languages. Kirsten is in pursuit of creation based projects and hopes to explore many different avenues within the performing arts.
Lara Barclay
A graduate of the National Ballet School and Hamburg Ballet School, Lara has been performing for 23 years with companies in Germany, Belgium, Denmark, Canada, USA and Brazil. She has danced with Ballet Mannheim, Toronto Dance Theatre, Copenhagen International Ballet, Landeshauptstadt Kiel, Jan Lauwer's Needcompany and Deborah Colker. Independently, she has had worked with Sylvain Émard, Barak Marshall, Mascall Dance, Evann Siebens, Vision Impure, Plastic Orchid Factory, and Josh Beamish. An active teacher, rehearsal director and choreographer, Lara teaches at Ballet BC, Arts Umbrella, Lamondance, RNB Dance and Modus Operandi. She has been a dancer with Aszure Barton & Artists, touring on international stages for the past seven years and most recently performed Awáa at the Ford Centre in LA. In November 2017, Lara performed Wells Hill for Vancouver's prestigious Dancehouse Festival in a premiere by Vanessa Goodman/Action at a Distance. Behind the scenes, Lara is a mother of two daughters, a yoga teacher and recently graduated with a diploma in Expressive Arts Therapy. This summer, Lara will begin her Masters degree in Expressive Arts Therapy through the European Graduate School in Switzerland.

Dario Dinuzzi is originally from Italy, a former dancer of Aterballetto (Italy), Les Grands Ballets Canadiens de Montreal and Ballet BC (Canada), Tanz Luzern Theater (Switzerland). 
Before his career as a professional dancer, he was performing as a juggler and flame-spitter in southern Italy.
Dario has had the opportunity to connect and interact with artists coming from diverse cultures. Each of them has left a strong mark in his dancing and understanding of movement. To name a few: Bryan Arias, Gioconda Barbuto, Serge Bennathan, Mauro Bigonzetti, Aszure Burton, Stijn Cellis, Jacopo Godani, Jiri Kylian, Johan Inger, Mats Ek, Ohad Naharin, Walter Matteini, Fernando Melo, Emily Molnar, Kevin O'Day, Georg Reischl, Po-Cheng Tsai, Medhi Walerski, Wen Wei Wang... among others.
In 2016 he is selected along with Sada Mamedova and Dor Mamalia to represent Tanz Luzerner Theatre in the Diana Vishneva Dance Festival "Context" in Moscow. 
In 2017 he collaborates with Barbara Hennig Marques to "A piece of clay", a 20 minutes solo performance which has become an installation open to the public in the Südpol Center for Performing Arts in Luzern.
While freelancing in Vancouver and further developing his training (Gaga, Hofesh Shechter, 605 Collective, James O'Hara, Johannes Wieland and Evangelous Poulinas, etc...), he had the fortune to collaborate as dancer, teacher and choreographer with Action at a Distance, Aeriosa, ArtsUmbrella, LamonDance, Mascall Dance, Modus Operandi, Plastic Orchid Factory, Small Stages, The Underground Circus and WenWei Dance. Furthermore he has been Artist in Residence with Ballet BC for two years and board member at Cada/West.
Since 2007 he also continues to cultivate and develop his choreographic language. His short works have been presented in Canada, Italy, Switzerland and US.
In 2010, while continuing dancing professionally, he starts to work as ballet teacher and coach. He has currently taught at national and international level including: ArtsUmbrella, Ballet BC, Harbour Dance, LamonDance, Modus Operandi, Simon Fraser University (Vancouver, BC); Ballet Preljocaj, Opera National du Rihn (France); Ballet Basel, Tanz Luzern Theater (Switzerland); Ballet Mannheim (Germany); CODARTS (Netherlands); NOD (Turin, Italy); SUNY (Purchase, NY), B-Dance (Taiwan). In 2018 he starts teaching GYROTONIC in the Vancouver's community.
Contemporary dance artist Olivia C. Davies has established a multifaceted practice which honours her Métis-Anishnawbe heritage, and is grounded in feminism, social justice, and our relationship to the land and the environment. Olivia collaborates with artists across disciplines to bring stories to life and facilitates dance and storytelling to create safe spaces where women are empowered through movement. She is the Artistic Director and Choreographer of O.Dela Arts.

Sarah Charles-DeCarlois a multi-disciplinary artist in residence at Skwachàys Lodge and is newly and gratefully living in Vancouver, on the unceded lands of the Squamish, Musqeum, and Tsleil-Waututh First Nations. Sarah has created numerous soundscapes and visuals for theatre and film and is excited to be part of Deck Dances 2018. This is Sarah's first collaboration with Olivia.
Alejandra Miranda Cabellero is an emerging dance artist who has a great curiosity for dance, movement, and human behaviour. Currently, her interests are taking her on a journey of rediscovering her dance roots by going back the rhythms of her childhood growing up in the Andean mountains of La Paz-Bolivia. Alejandra migrated to Vancouver in 2014 to pursue her professional career in dance. She has collaborated with Olivia since 2015.
Emily Long is an emerging dance artist whose passion for art and expression is a constant force in her life. She uses the body to invent, infuse, inspire, re-wire, confuse, and create. Emily is the co-founder and Artistic Director of Subscura, a Vancouver-based performing arts collective that encompasses live performance with dance, circus aerials, and theatrical storytelling. She has collaborated with Olivia since 2015.
Dorothea Hayley, soprano
Praised for her "very personal creative power" (Badener Zeitung) and her "amazing coloratura skills" (Opera Canada), Dorothea Hayley has been a soloist with the Vancouver Symphony, the Bourgas Symphony, the Allegra Chamber Orchestra, and Capriccio Basel, and has appeared in recital in Europe, Asia, and North and South America. She has performed in festivals such as Sonic Boom, the Happening Festival, Gulangyu Piano Festival, Performer's Voice Symposium, New York City Electroacoustic Music Festival, and the Atempo Festival of Caracas, and with organizations like the SMCQ, Chants Libres, CIRMMT, Codes d'accès, Vancouver New Music, the Little Chamber Music Series That Could, and the Land's End Ensemble. She is a member of the Erato Ensemble, the Broadwood Duo, Ensamble Atempo, and the Hayley-Laufer Duo.
An enthusiastic performer of contemporary music, Dory has worked with composers such as Helmut Lachenmann, Diógenes Rivas, Owen Underhill, Jordan Nobles, and Chris Paul Harman, and created roles
in Mark Haney's Omnis Temporalis and Michael James Park's Diagnosis Diabetes. The Georgia Straight called her performance of Joelysa Pankanea's The Fifth Stage one of "five transcendent arts moments" of 2015.
A former Visiting Scholar at Harvard University's Radcliffe Institute and Visiting Faculty Artist at the Afghanistan National Institute of Music, she currently teaches at Vancouver Community College. She is the Artistic Co-Director of the Blueridge Chamber Music Festival.
Dory pursued vocal studies at McGill University, the University of British Columbia, and the Universität für Musik und darstellende Kunst Wien, and has received grants from the Canada Council for the Arts, the Koerner Foundation, the Social Sciences and Research Council of Canada, and the Conseil des arts et des letters du Québec. She holds a Doctor of Music degree from Université de Montréal.
Christoph von Riedemann was born and raised in New Westminster, BC. He grew up dancing at Arts Umbrella under the instruction and mentorship of Artemis Gordon, Lynn Sheppard, Marquita Lester, Emily Molnar, Justine Chambers and Lina Fitzner. After graduating from the school's graduate program he joined Ballet BC. Christoph worked with the company for 4 years where he was lucky enough to work with many incredible people and diverse artists. Crystal Pite, Sharon Eyal, Johan Inger, Company 605, and many others. He is fascinated by human connection, sensitivity, strength and potential; for many reasons Christoph chooses dancing to remind and teach him what those things are made of. Last summer he endeavoured to create a short work in collaboration with Rachel McNamee, Maya Tenzer and Paxton Ricketts in a project called "The Distance", researching in between spaces. Christoph is so grateful to Alexis and Sylvain for the opportunity to be researching and performing in their beautiful space.
Stéphanie Cyr is a graduate of the Arts Umbrella graduate program and is currently a freelance dancer based in Vancouver. She has worked and performed with Lesley Telford | Inverso, Andrea Peña & Artists (Montréal), imPerfect Dancers Company (Italy), TWObigsteps collective, Serge Bennathan and Action at a Distance, among others. She has also participated in the Movement Invention Project, Springboard Danse Montréal and the Creative Gesture at The Banff Centre.