Event Information
Location
Choose Your Location When You Choose Your Ticket
LANGLEY Coast Langley City Hotel and Convention Centre OR VICTORIA - Coast Victoria Harbourside Hotel and Marina
Description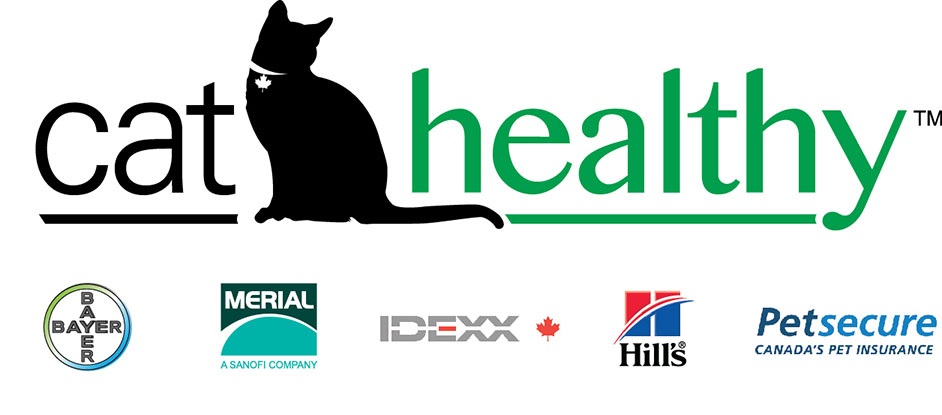 If tickets are sold out, please call the office at 604.406.3713 for cancellation list. Thank you.
Cat Healthy is coming to BC, brought to you by the CVMA-SBCV Chapter and sponsored by Cat Healthy.
Join the CVMA-SBCV Chapter as it hosts two Feline Specialists, Dr. Elizabeth O'Brien and Dr. Kelly St. Denis for two one-day sessions: Tuesday May 16, 2017 in Langley or Wednesday May 17, 2017 in Victoria. Choose your location, attend the seminars, and earn 5 CE hours. Thanks to the generous sponsorship of Cat Healthy, the cost to attend these seminars is only $75 for CVMA-SBCV Chapter members and $125 for non-Chapter members, including lunch and refreshments.
Locations
Langley seminar is at Coast Langley City Hotel and Convention Centre, 20393 Fraser Highway, Langley, BC.
Victoria seminar is at Coast Victoria Harbourside Hotel and Marina, 146 Kingston Street, Victoria, BC.
Seminars
Feline Chronic Kidney Disease: A Practical Approach to IRIS Staging For cats that are diagnosed with CKD, it is critical that practitioners and clients work together to stage and monitor the disease. This seminar will provide a practical approach to caring for the feline CKD patient.
Understanding and Treating FIC: The Most Common Cause of Non-Obstructive FLUTD Regardless of whether it is called FUS, FLUTD or FIC, urinary tract disease in cats is most certainly always complex and often confusing. This session will focus on understanding the etiology and treatment of non-obstructive urinary tract disease in cats.
Calcium Homeostasis: Understanding the Hypercalcemic Cat Total Calcium, ionized calcium, parathyroid hormone, and vitamin D: understanding calcium regulation in the cat can be bewildering. This session will focus on understanding calcium regulation in cats, hypercalcemia, diagnostic tests and options for therapy.
Hairballs are Not Normal: A Practical Approach to the Vomiting Cat Hairballs are often considered to be normal in cats. This session will focus on understanding the truth about vomiting in cats, with emphasis on diagnosis and treatment of common causes of vomiting including inflammatory bowel disease, pancreatitis and lymphoma.
Diabetes Mellitus: Is Remission a Reasonable and Achievable Goal? Caring for the feline diabetic can be challenging and frustrating. What is remission? Is it a reasonable goal? This session will focus on the concept of diabetes remission and how to manage diabetes in cats.
Session Speakers
Dr. Elizabeth O'Brien, DVM, DABVP (Feline Practice), Feline Specialist, Visionary for Cat Healthy and Owner of The Cat Clinic and Village Cat Clinic
Dr. Elizabeth O'Brien graduated from OVC in 1985 and became a Diplomate, American Board of Veterinary Practitioners in feline practice in 1999. She is the owner of two feline only practices in Hamilton, Ontario where she continues to be in the trenches as a practitioner and a passionate advocate for the welfare of cats. "Dr. Liz" is the visionary for Cat Healthy, whose mission is to increase the value of owned, homeless and feral cats in communities across Canada. Through her leadership, Dr. Liz brought together the six board certified feline practitioners in Canada and industry partners to create the Cat Healthy Initiative. The cathealthy.ca website includes resources for veterinary teams, shelters and cat owners in order to promote the importance of regular preventive healthcare for all cats. Dr. O'Brien was recipient of the CVMA Small Animal Practitioner of the Year Award for 2014.
Dr. Kelly St. Denis, MSc, DVM, DABVP (Feline Practice)
Dr. St. Denis is currently a full time clinician at the Charing Cross Cat Clinic in Brantford, Ontario, which she opened in 2007. She holds a Bachelor of Science Degree in Genetics and a Master of Science Degree in Immunology. In 1999, she completed her Doctor of Veterinary Medicine degree at the Ontario Veterinary College. Dr. St. Denis has been certified with the American Board of Veterinary Practitioners in the specialty of feline practice since 2013. Dr. St. Denis is a consultant on VIN, a reviewer for JFMS and sits on the Advisory Council for the AAFP Cat Friendly Practice Program. She is a newly elected member to the AAFP Board of Directors.
Agenda for each day
8:00 am Registration
8:30 – 9:30 am Educational Session
9:30 – 10:00 am Morning Break with refreshments
10:00 – 12:00 pm Educational Session
12:00 – 1:00 pm Lunch
1:00 – 2:00 pm Educational Session
2:00 – 2:30 pm Afternoon Break
2:30 – 3:30 pm Educational Session
All sessions are generously sponsored by Cat Healthy.
Location
Choose Your Location When You Choose Your Ticket
LANGLEY Coast Langley City Hotel and Convention Centre OR VICTORIA - Coast Victoria Harbourside Hotel and Marina