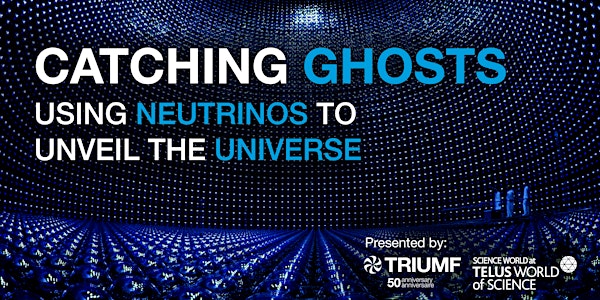 Catching Ghosts: Using Neutrinos to Unveil the Universe
When and where
Location
Science World at TELUS World of Science 1455 Quebec Street Vancouver, BC V6A 3Z7 Canada
Description
Doors open at 6:30 PM
Lecture begins at 7:00 PM
Q&A to follow
Detecting the
Ghost Particles
of the Universe
On a clear night, away from the bright lights of Vancouver, you can see the incredible expanse of the universe before you. To study these far-away celestial bodies, scientists use a "radiation toolkit" to observe our universe and understand how the galaxies we see today came to be. Some types of radiation, such as infrared radiation, can sense stars in their infancy, not yet hot enough to shine visible light. Others, like x-rays and gamma rays, can reveal matter being sucked into a black hole.
When it comes to studying the nuclear processes in the heart of stars, scientists must turn to neutrinos: subatomic particles that are currently flying unbeknownst through your body by the billions, right this second. These elusive little particles are an excellent probe into the core of the sun and distant supernovae, but they are notoriously difficult to detect. Difficult, but not impossible.
On Tuesday, October 23, join Dr. Stanley Yen, TRIUMF Research Scientist, for his talk, Detecting the Ghost Particles of the Universe.
This lecture is the latest installment of TRIUMF's 50th Anniversary Unveiling the Universe Lecture Series
Discover TRIUMF - past, present, and future: www.TRIUMF50.com
Subscribe for updates about Unveiling the Universe and other TRIUMF events
---
FAQs
Do I need to bring a paper ticket?
No, once you've registered through Eventbrite your name is on the list, so you will just need a piece of ID with your name. To speed things up, bring your e-ticket on your phone or a printed copy of your ticket.
What if I registered but can no longer go?
We're sorry you cannot make it! Please cancel your free registration before the event. We always sell out quickly so this gives others a chance to reserve your tickets and allows us to better anticipate the amount of guests expected.

Will I get a seat if I just show up without registering?
We cannot promise a seat for walk-ins. However, at previous events we were able to seat walk-ins. If you are in the area, feel free to stop by!

Why is it first come, first serve? Why can't we reserve seating?
Science World does not have numbered seating therefore the first to show up will be seated in the theatre.