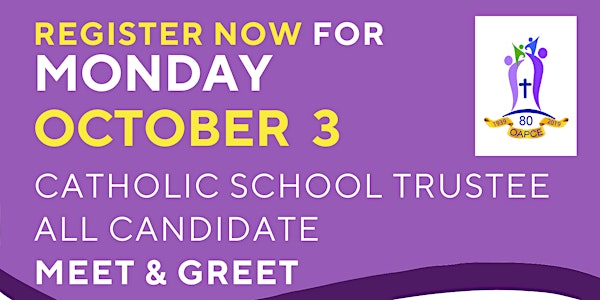 Catholic School Trustee - All Candidate Meet & Greet - OAPCE Toronto
PLEASE NOTE: Pre-Registration is required to attend the Catholic School Trustee - All Candidates Meet & Greet - Presented by OAPCE Toronto
About this event
PLEASE NOTE: Pre-Registration is required to attend the Catholic School Trustee - All Candidate Meet & Greet - Presented by OAPCE Toronto.
The meeting will be held virtually on ZOOM.
Meeting Information will be emailed to only those registered.
Breakout Information -> 12 Breakout Rooms - each one represents a Ward.
Schedule (subject to change):
A 2 hour Virtual Meet and Greet
15 minutes - Welcome and Candidate Introductions
1 hour 15 minutes Moderated Ward Specific Sessions
15 minutes Closing remarks and Wrap-Up
Don't know what ward you are in or who is running? See the links below:
Municipal (Trustee) Elections TCDSB Website -> CLICK HERE
Toronto Catholic District School Board - Ward Map -> CLICK HERE
Find your Local Trustee Candidate -> CLICK HERE
City of Toronto - Toronto Catholic School Ward Map -> CLICK HERE