Multiple Dates
Cats On Your Mats at the 2016 Edmonton International Cat Festival
Actions and Detail Panel
Cats On Your Mats at the 2016 Edmonton International Cat Festival
Multiple Dates
Description
The Edmonton International Cat Festival is the only festival of its kind in Canada, bringing together cat lovers to celebrate cats and cat culture, while raising money and awareness for important cat rescue organizations! #YEGCatFest donates 100% of proceeds back to local rescue organizations. Since 2014, we've raised $39,000 for local rescues helping cats in need. The 2016 event takes place Saturday, May 28, and will feature even more CAT-ivities than before! We are not kitten you right meow.
Now for a little bit about Cat Yoga!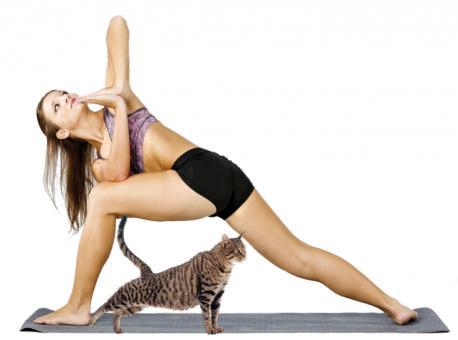 What do cats and yogis have in common? They both love to stretch! And now they can stretch together: Introducing Edmonton's first Cat Yoga Class. This new phenomenon of gathering friends and felines together for yoga was inspired by the Stretch Vancouver studio where eight kitties pawed and purred their way around the studio while participants did their poses and stances back on September, 20th 2015.
Don't know much about Hatha yoga? No problem! This beginner course taught by the amazing Char Bergenstrom, combines a focus of breathing, mindfulness, and physical movements. Participating in yoga has been known to help increase energy levels and muscle tone, as well as aid in better sleep and relief from muscle pain and stiffness.
Hatha Yoga classes are designed for the beginner with none to some prior yoga experience. In the class, you will learn the foundational postures to create more flexibility and comfort in the body. Postures will be broken down to show proper alignment, and proper breathing and core control will be practiced.
This course is not only healthy and fun, it also helps to socialize and enrich the lives of the shelter cats, as well as, encourages adoption by showing the cats awesome personalities by interacting with them.
RSVP for a cat yoga spot at the 2016 Edmonton International Cat Festival today!
Space is limited.
Please note: You must purchase a ticket to the Cat Festival in order to participate in the Cats On Your Mat sessions. Optional donations to the Humane Society will also be accepted at the class.
Learn more about the Edmonton International Cat Festival
Make sure to get your tickets to the Edmonton International Cat Festival here!