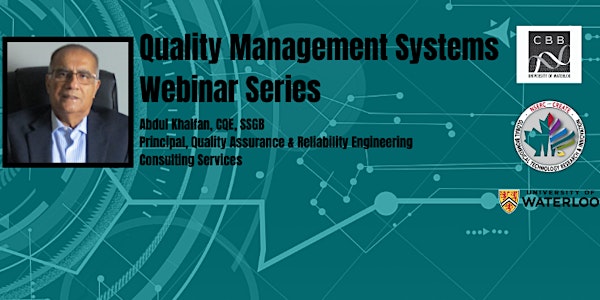 CBB presents: Quality Management Systems Webinar Series - October Session
Learn about Quality Management Systems (QMS) Basic Concepts of Quality with expert: Abdul Khalfan
About this event
October 28, 2020: Basic Concepts of Quality
Speaker: Abdul Khalfan CQE, SSGB
Principal, Quality Assurance & Reliability Engineering Consulting Services
The central theme of 'Basic Concepts of Quality' is to imbed the fundamentals of 'Quality' concepts in everyday work life and in their interactions with the society at large.
The 'Basic Concepts of Quality' focuses on the thought process of Quality is everybody's business! It is a never-ending journey of Continuous Improvement…… It defines and explains the following:
What is Quality?
What are the four absolutes of Quality?
What is Quality Based upon?
Definition of a Customer
Definition of a Supplier
What is a Process?
Process Management Model
System for Improving Quality
Performance Standard
Measurement of Quality
Price of Non-conformance (PONC)
Calculation of PONC
The Importance of Measurement
Individual's Commitment
Typical Quality Systems
Closed Loop Corrective Action System ((CLCA)
About Abdul Khalfan:
Abdul Khalfan is a Quality Management Systems (QMS) seasoned professional with over 30 years of experience in Quality Assurance, Product Development and Validation, Reliability Engineering, and Continuous Improvement. He is detailed oriented in Process development, planning, designing, documenting, establishing, training, auditing, and successfully implementing QMS from ground zero that conform to ISO 9001 and ISO 13485 Standards. Abdul has deep Process Management and Improvement knowledge-know-how, and experience in Product Life Cycle, Product Validation, and Business Process Analysis. He has gained technical knowledge, experience, and management skills over the past 37 years through Fortune 500 companies, such as NCR, AT&T, Flextronics, Bell-Howell, ITT, First Data, Teledyne (Dalsa), as well as small, medium, and large high-tech corporations such as Ingenico, Com Dev, Ingenico, KA Imaging, Durose Steel Corporation, B.TE. Automotive, Curiato Inc., and the likes of it.
Webinar viewing information will be sent with your registration confirmation email.
Save the date for the next QMS Webinar: Product Life Cycle on November 25!