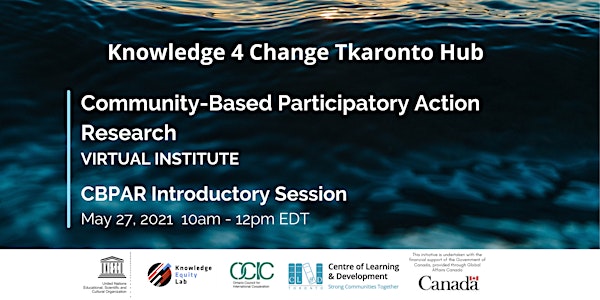 CBPAR Virtual Summer Institute Introductory Session
Join us for an introduction session to Community-based Participatory Action Research (CBPAR)
About this event
On May 27, 2021, join the Knowledge Equity Lab, the Toronto Centre for Community Learning & Development, and the Ontario Council for International Cooperation for an introduction to Community-based Participatory Action Research (CBPAR).
Community-Based Participatory Action Research (CBPAR), also referred to as 'participatory action research' (PAR) or community-based participatory research (CBPR), is an approach to research, rather than a method. Guided by principles of anti-oppression, decolonization and respect for diverse ways of knowing, CBPAR is driven by a social purpose. CBPAR seeks to achieve transformative change by shedding light on the root causes of societal and environmental injustices and how to address them. CBPAR projects are built around community-identified problems by and with those who are most affected. Community members are co-researchers rather than subjects of study. Depending on the research question or context, a CBPAR project can use one or more research methods, drawing on a wide range of quantitative (e.g. surveys), qualitative (e.g. interviews) and arts-informed (e.g. oral storytelling) methods.
Introductory Session Overview
Our introductory session is designed to introduce participants to the origins, purpose, key principles, ethics, and the planning phases of CBPAR through an interactive presentation followed by small group discussion. Participants will have the opportunity to discuss common areas of interest, and to practice formulating guiding research questions that they can explore throughout the Institute through various CBPAR methods such as community mapping, virtual focus groups and participatory theatre. This webinar will be offered in English with French and Spanish translation as an opportunity for those that are new to CBPAR, and those that would like a refresher, to learn more.
Co-facilitators:
Isabelle Kim has been working in international cooperation, public engagement, and community-based education, health, arts and research since 1996. She holds a PhD from the Ontario Institute for Studies in Education at the University of Toronto, where Isabelle has taught nearly 30 courses in research methods and cooperative learning. In 2020, Isabelle was certified as a Mentor in Community-Based Participatory Research (CBPR) by the UNESCO co-Chairs in Social Responsibility in Higher Education and CBPR. She is one of the founding members of the Knowledge For Change (K4C) Toronto Hub. Isabelle recently co-taught a six-month CBPAR course with Karen Villanueva within the Immigrant Women Integration Program at the Toronto Centre of Learning & Development. Isabelle currently works as a Grants Manager at Partners In Health Canada.
Elham Rasoulian's educational background is in Engineering. After moving to Canada in 2019 she joined the Toronto Centre of Learning and Development's (CL&D) Immigrant Women Integration Program (IWIP), where she learned how to do Community-Based Participatory Action Research (CBPAR). She co-led with another IWIP trainee a CBPAR project on the affordability and availability of childcare for newcomer families in Toronto. After finishing IWIP, Elham pursued Certified Associate in Project Management credentials from the Project Management Institute. She has co-designed and co-facilitated a workshop on CBPAR project planning in the Knowledge for Change Toronto Hub's first CBPAR virtual institute in 2020 and the IWIP 2020-2021 cohort. She is currently collaborating on a participatory program evaluation project with CL&D and the MAP Centre for Urban Health Solutions.
Virtual Summer Institute in CBPAR
Following the Introductory Session, registration will open for members, students, staff, volunteers, artists, activists, educators and researchers to join us for a four-week Virtual Summer Institute, beginning June 16, 2021. The Institute will be a unique opportunity for a diverse group of participants to explore how to apply the principles and methods of CBPAR towards social change through weekly readings, recordings and webinars. The webinars will be held Wednesday June 16, 23, 30 and July 7, 2021, from 10 am - 12 noon EST. Topics include equitable university-community research partnerships, community mapping/stakeholder analysis, virtual focus groups, and participatory theatre. These build upon our 2020 Institute focus on mindful participatory observation, digital storytelling/photovoice, and muralism.
Registration for the Virtual Summer Institute will open May 27, 2021, and will be limited, to support a positive learning environment. Participants are expected to attend and actively participate in all sessions. Those that do will receive a certificate of completion. Registration is free, however donations are welcome to help support our costs. Click here to donate.
For more information
For more information on CBPAR, the UNESCO Knowledge for Change Tkaronto Hub, and the UNESCO Knowledge for Change Global Consortium see:
https://www.unescochair-cbrsr.org/tkaronto-k4c-hub/ https://knowledgeequitylab.ca/lab-projects/unesco-k4c/ https://www.communityresearchcanada.ca/approach https://dspace.library.uvic.ca/handle/1828/5949