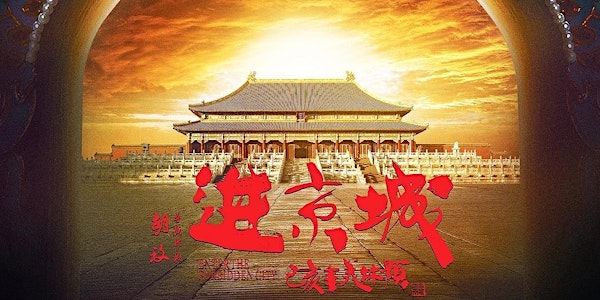 CCIFF Opening Film - Entrer dans la cité interdite | 进京城 | Enter the Forbidden City
By Canada China International Film Festival
When and where
Date and time
Fri, Sep 13, 2019 6:30 PM - 8:30 PM EDT
Location
Alumni Auditorium (H.110) Pavillion Henry F.Hall Building 1455 De Maisonneuve Boulevard West Montreal, QC H3G 1M8 Canada
Description
Le film"Entrer dans la cité interdite" raconte une histoire pendant la période Qianlong de la dynastie. La troupe théâtrale Chuntai, soutenue par Jiang Chunjia (Yao Anzhen), commerçant du sel de Yangzhou , représente une pièce pour fêter l'anniversaire de l'empereur Qianlong (Jiao Huang). Un enchevêtrement dramatique d'amour se déroule entre l'acteur Wang Runsheng (Fu Dalong), l'actrice Feng Gege (Ma Yizhen) et l'admirateur Chun Rong (Wang Zi Wen),
《进京城》讲述了清代乾隆年间,扬州盐商江春家(姚安濂饰)供养的春台班进京为乾隆皇帝(焦晃饰)祝寿,在以汪润生(马敬涵饰)、岳九(富大龙饰)为代表的戏曲艺人及以凤格格(马伊琍饰)和春荣(王子文饰)等为代表的戏迷之间,发生的梨园恩怨与爱情纠葛。
Enter the Forbidden City" tells the story that in the Qianlong period of the Qing Dynasty, the Chuntai Jiang Drama Team, supported Chunjia (Yao Anzhen), a salt merchant from Yangzhou, came to Beijing for the celebration of Emperor Qianlong's (Jiao Huang ornaments) birthday. The films show the grievances and love entanglements in the operat circle among the opera artists Wang Runsheng (Ma Jinghan), Yue Jiu (Fu Dalong) and the fans represented by Feng Gege (Ma Yizhen) and Chun Rong (Wang Zi Wen).
Youtube link
https://youtu.be/Dtn2DyKXtr0
About the organizer
Canada China International Film Festival is organised by Canada China Art-Tech (CCAT), which aims to build and promote an inclusive platform to foster and develop digital content opportunities, business relations and partnerships for technology-enabled creative industries.