Description
Please join us for an information webinar about our Climate Change Innovation and Technology Framework (CCITF) funding programs. Information about these programs, including program guides and competition timelines, are already posted on our CCITF Funding webpage.
This webinar, presented by our program leads, will provide potential applicants with information and the opportunity to ask questions about eligibility, applications and other requirements.
Participants are free to sign into the webinar at any time to listen to their area of interest. See below for the webinar agenda.
The CCITF programs have been developed in partnership with government to support the goals of Alberta's Climate Leadership Plan through investments in innovation and technology. The programs focus on the following priority sector areas: cleaner oil and gas; methane emissions reduction; low carbon electricity; waste to value-added; green buildings and energy efficiency.
Please see our CCITF Funding webpage for contact and other information specific to each program.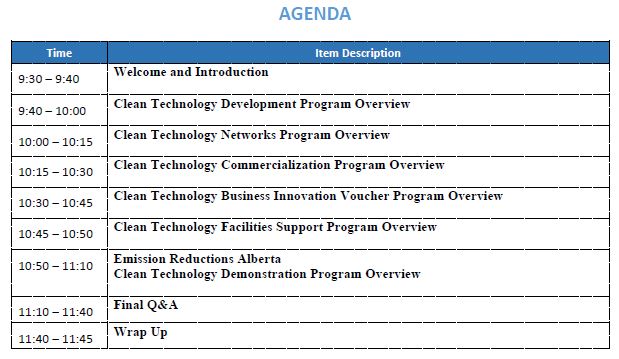 Note: This webinar will be offered through Skype. When accessing the webinar link (provided upon registration), you will be prompted to use either the Skype Meetings App or Skype For Business. You may also access the webinar using your iOS, Google or Microsoft smartphone. Teleconference details will also be provided for registrants who prefer to listen only.