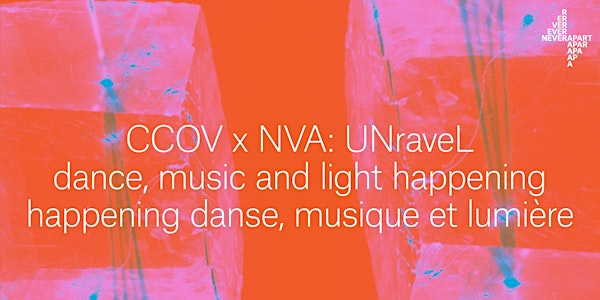 CCOV x NVA ► UNraveL
NVA et CCOV collaborent pour la première fois pour présenter un happening de musique, lumière et danse expérimentale.
When and where
Location
Centre de Création O Vertigo - CCOV 175 Rue Sainte-Catherine Ouest Montréal, QC H2X 1Z8 Canada
About this event
NVA et CCOV collaborent pour la première fois pour présenter un happening de musique, lumière et danse expérimentale, explorant et recadrant les idées esthétiques de la RAVE.
Dissoudre les distinctions entre chorégraphie et performance musicale, entre danseurs et public, invitant chacun·e·s à participer à une expérience sonore et corporelle immersive. UNraveL brouille les frontières entre une fête et une performance, subvertissant la progression d'une nuit folle en un conteneur de propositions artistiques hautes en couleurs.
Venez découvrir le CCOV, un nouvel espace caché dans les souterrains de la Place des Arts.
——————
NVA and the CCOV collaborate for the first time to present a music, light and experimental dance happening, exploring and reframing the aesthetic ideas of RAVE.
Unraveling the distinctions between choreography and musical performance, between dancers and the public, inviting everyone to participate in an immersive sound and body experience. UNraveL blurs the lines between a party and performance event, subverting the progression of a wild night out into a container for colourful artistic propositions.
Come and discover the CCOV, a new hidden space in the underground of Place des Arts.
——————
► Musique / Music:
Ouri (DJ)
M0llygum (DJ)
YlangYlang (live)
► Visuels / Visuals:
► Danse / Dance:
Stephen John and Alexe Lebel-Faille
——————
► Accessibilité Universelle au CCOV:
Le CCOV se situe au 3ème sous-sol de la Place Des Arts, accessible au niveau de la rue et possédant des rampes et ascenseurs dans tout le bâtiment et sur les entrées. Les toilettes situées dans les locaux du CCOV ne sont pas accessibles aux fauteuils roulants, cependant, il y a une salle de bain accessible dans le couloir au même étage. Toute personne désirant une assistance pour accéder à notre salle peut nous contacter, c'est avec plaisir que nous tenterons de répondre au mieux à ses besoins.
► Accessibility Info at CCOV:
The CCOV is located in the third floor basement of the Place Des Arts which is accessible at street level and has ramps and elevators throughout the building and entrances. There are 2 washrooms in the space which are not wheelchair accessible. However there is a wheelchair accessible bathroom on the same floor very close by. Anyone needing assistance accessing our space or more details regarding accessibility can contact us as we are more than happy to try to accommodate people to the best of our ability.
——————
► Land Acknowledgement
We would like to acknowledge that the land on which we gather for this event is located on unceded Indigenous lands. The Kanien'kehá:ka Nation is recognized as the custodians of the lands and waters on which we gather today. Tiohtiá:ke/Montreal is historically known as a gathering place for many First Nations. Today, it is home to a diverse population of Indigenous and other peoples. We respect the continued connections with the past, present and future in our ongoing relationships with Indigenous and other peoples within the Montreal community.
► Reconnaissance des terres
Nous reconnaissons que la terre sur laquelle nous nous réunissions pour cet évènement est située en territoire autochtone, lequel n'a jamais été cédé. Nous reconnaissons la nation Kanien'kehá: ka comme gardienne des terres et des eaux sur lesquelles nous nous réunissons aujourd'hui. Tiohtiá: ke / Montréal est historiquement connu comme un lieu de rassemblement pour de nombreuses Premières Nations, et aujourd'hui, une population autochtone diversifiée, ainsi que d'autres peuples, y résident. C'est dans le respect des liens avec le passé, le présent et l'avenir que nous reconnaissons les relations continues entre les Peuples Autochtones et autres personnes de la communauté montréalaise.