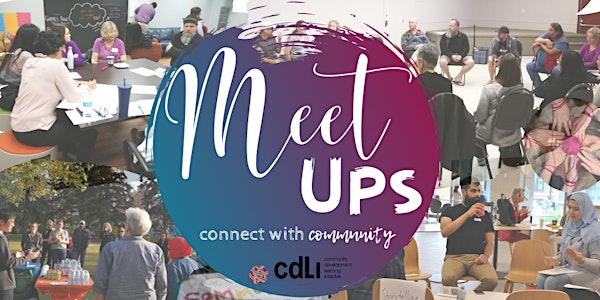 CDLI Meet Up: (re)Claiming Outdoor Spaces for Community
Connecting with community-minded Calgarians to learn, inspire, and take action!
Date and time
Wed, Mar 31, 2021 5:00 PM - 6:30 PM PDT
About this event
For this month's Meet Up, we'll be exploring creative ways of (re)claiming outdoor spaces for community building efforts!
To get the conversation started we'll hear from Tiffany Talen with Knox Presbyterian Church who will share stories from the summer of 2020 of how through partnerships, intergenerational community connections, and tapping into the strengths of the nearby residents they were able to re-frame unused outdoor space for community.
Examples of their initiatives include:
an interactive community mural
activating outdoor furniture, and
a collaborative painted rock garden installed along a major informal pathway
We'll spend the second portion of the evening hearing from others in the circle about what they have done in the past to (re)claim & activate outdoor community spaces, and what their plans are for the coming months.
If you have outdoor space you're looking to activate, or if you're a community member who would like to get involved in supporting others to activate outdoor spaces this year - this is the event for you!
We strongly encourage you find a rock and bring it along to decorate with your own markers or paint while the conversation is ongoing! You can start your own painted rock garden, or, find a time to add it to the growing garden by Knox Presbyterian!
Spend an hour and a half connecting with others who are passionate about building better communities, learning from their experiences while also sharing yours… and leave with new energy and ideas for your own community building efforts!
For more information or if you have any questions, contact the CDLI team at 403-919-3072 or by e-mail at amandapr@caryacalgary.ca.
We look forward to connecting with you at the Meet Up,
CDLI Meet Up Learning and Action Team