#CdnImm Event #10 - Youth & Settlement

Thursday, December 13, 2012 from 1:30 PM to 4:00 PM (EST)
Event Details
See information and material from the previous event here.
Are you actively engaged in settlement service delivery or immigration research?
Do you want to connect with academics and practitioners in settlement?
If so, this is not an event to miss.
With the growth of popularity of the "#CdnImm" hashtag on Twitter, a community has coalesced online to share and discuss timely and relevant topics and information about Canadian immigration. The #CdnImm event series helps to promote connections, encourage further sharing of information, and expand the community of collaborators. This event will host some presentations from collaborators in the sector, followed by a discussion and further information sharing from attendees. Taking place regularly, these events seek to broaden the important discussions happening in the sector as well as increasing and strengthening the bonds between collaborators to improve our understanding of the sector and to improve services. 
Event topic: Youth & Settlement
Aim:
To understand 

current challenges and practices in youth settlement services and newcomer youth integration, and to chart a way forward
Schedule
1 - 1:30 pm:  Registration

1:30 - 1:40 pm:  Introductions

1:40 -

 3 pm:  Presentations

3 - 3:30 pm:  Q&A / Closing Remarks

3:30 - 4:00 pm:  Networking

4 pm - ?:  Further discussion for anyone interested at Ten Ren's Tea Time
Speakers
Jai Sahak, Content Coordinator, NewYouth.ca, OCASI - Ontario Council of Agencies Serving Immigrants
Jai has a Masters Degree in Immigration and Settlement Studies from Ryerson University with a particular focus on the integration of new immigrant and refugee youth living in disadvantaged communities. His thesis, entitled "Race, Space and Place: Exploring Toronto's Regent Park from a Marxist Perspective", explored the experiences of newcomer youth living in Toronto's Regent Park.
He has worked as a frontline youth worker where he was responsible for overseeing numerous programs involving newcomer youth. He has been working collaboratively with agencies in the Regent Park, Lawrence Heights, Jamestown and Scarborough Village neighbourhoods of Toronto.
He also has experience with capacity building among newcomer communities. He was an acting member of a panel of practitioners at York University/OCASI Question and Answer session on settlement challenges facing youth, and also as a community reviewer of the Newcomer Youth Settlement Guide for Service Providers. He has also sat as a Board Member for the Canadian Youth Business Foundation's Newcomer Youth Initiative. The aim was to expose youth to a wide range of business practices and motivate newcomer youth to start their own businesses.
Julia Mais, OCASI - Ontario Council of Agencies Serving Immigrants
Julia is currently employed as a Program Coordinator with OCASI (Ontario Council of Agencies Serving Immigrants) where her accomplishments have included co-authoring a report for the United Nations Committee for the Rights of the Child (UNCRC), developing grant proposals and strengthening the organization's web-based products.
Originally from the West Coast, Julia has also worked, studied and volunteered in Latin America, Europe and the Middle East. Her passion for people and cultures from around the world has led her to work and volunteer with immigrants, refugees and temporary residents through settlement agencies, asylum centres, youth mobility programs and ESL instruction in Canada and abroad.

Julia recently graduated with a Master of Arts Degree and Graduate Diploma in Refugee and Migration Studies from York University. Her research, which focused on immigrants' experiences in the labour market, was presented at the 14th National Metropolis Conference. 
Jennilee Austria, North York Community House
Jennilee is a School Settlement (SEPT) Worker with North York Community House. She has her Masters in Immigration and Settlement from Ryerson University, and has worked in numerous TDSB and TCDSB high schools with newcomer youth.
Jennilee co-facilitates training sessions for staff to learn how to implement Digital Storytelling in their work – an initiative which she uses in her schools to give a voice to the English Language Learners who are often misunderstood in school. Her Digital Stories have been presented at various educational equity conferences in the GTA, and are currently being shown in Malawi and Kenya by the International Organization for Migration (IOM) for their Pre-Departure Orientation Sessions. Her presentation will feature some of these stories, and she will address current trends among newcomer youth in her TDSB and TCDSB high schools.
Cristian Medina, North York Community House
Cristian is currently working as Youth Settlement Worker for North York Community House (NYCH). Throughout his career at NYCH, which has included the roles of School Settlement Worker and Youth Opportunities Program Coordinator, Cristian has acquired extensive experience helping newcomer youth in high schools, and their families, with their settlement process.  He has also worked with youth at risk to engage them in the community by helping them with their education and employment needs and by developing their leadership, communication and team-building skills. Cristian, along with a coworker, planned, coordinated and delivered a conference for approximately 100 Hispanic refugees to commemorate the 25th anniversary of refugee rights in Canada. 
Cristian also has experience working with marginalized youth in France and Colombia. After finishing a post-graduate certificate in International Development, he worked with the Colombian-German Association for Integral Sustainable Development in Bogotá, Colombia where he was in charge of coordinating a project to develop the capacities of marginalized youth so that they become the leaders in charge of transforming their environment.
Cristian will present some digital stories from the youth he was been working with together with Jennilee Austria.
Bring your own immigration/settlement literature to share!
There will be an information table, so please bring any flyers, brochures or other literature related to immigration or settlement.  (If there is any information left over at the end of the event, please take it with you.)
If you have a message you would like mentioned at the end of the event, please send it to us ahead of time.
Wifi
Feel free to bring your mobile device, laptop, tablet, and take notes, share links, and be part of the online discussion.

Twitter
Also, if you haven't already, you are encouraged to join the online conversation on Twitter. 
Check out what people are already discussing and sharing on Twitter about Canadian Immigration:
Don't know what Twitter is?
That's fine! At this event we'll help you get ready to use Twitter to be part of the #CdnImm discussion. Start by downloading Twitter to your favorite mobile device, tablet or laptop computer:
Then sign up for an account on Twitter and we'll help you with the rest. 
Feel free to share this event with others, and please RSVP so we can keep a count on attendees. Space is limited!  You do not need to print your ticket.
This session run in collaboration with: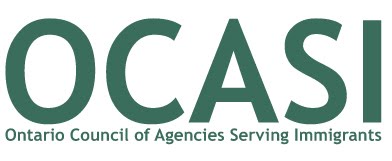 Attendee List
Sort by:

Date

|

First Name
When & Where

North York Central Library Auditorium
5120 Yonge St
Toronto, ON M2N 6L4
Canada

Thursday, December 13, 2012 from 1:30 PM to 4:00 PM (EST)
Add to my calendar
Organizer
A horizontal, collaborative, participatory community of engaged knowledge workers collaborating to share insights about Canadian Immigration. Join the conversation on Twitter! https://twitter.com/#!/search/%23CdnImm
Questions? atwork@ocasi.org   
#CdnImm Event #10 - Youth & Settlement