#CdnImm Event #13 - Pursuing Further Post-secondary Education in Canada

Thursday, March 7, 2013 from 1:30 PM to 4:00 PM (EST)
Event Details
See information and material from past events here.
Are you actively engaged in settlement service delivery or immigration research?
Do you want to connect with academics and practitioners in settlement?
If so, this is not an event to miss.
With the growth of popularity of the "#CdnImm" hashtag on Twitter, a community has coalesced online to share and discuss timely and relevant topics about Canadian immigration. The #CdnImm event series helps to promote connections, encourage further sharing of information, and expand the community of collaborators in order to enhance our understanding of the sector and improve services. 
Topic:
Immigrants Going Back to School: How to support and advise migrants wanting to pursue post-secondary studies in Toronto
Aim:
To 

help service providers support migrants who are interested in pursuing further post-secondary education in Canada
Background
Internationally educated professionals are increasingly pursuing post-secondary education. However, service providers may not always be aware of how to best help individuals get recognition for their international education and experience and help individuals leverage their international and Canadian education for career success. Without this knowledge, migrants pursuing post-secondary studies in Canada may be misinformed about application procedures, deadlines, fees, diversity and flexibility of programs, and how to use previous studies and experience for advanced standing, prior learning assessment and recognition, or course credit.
This event brings together presenters from post-secondary institutions in Toronto, a settlement agency and a credential assessment agency to share information, resources and insights for immigration and employment counselors and service providers about how to advise and provide accurate information and referral to migrants about post-secondary studies in Toronto. Details about the various pathways that migrants can take to build on their previous education will be explored, how to help migrants gain recognition for their international studies and experience and, ultimately, obtain better career success in Canada.
Schedule
1 - 1:30 pm:  Registration

1:30 - 1:40 pm:  Introductions

1:40 -

 3 pm:  Presentations

3 - 3:30 pm:  Q&A / Closing Remarks

3:30 - 4:00 pm:  Networking
Speakers
Jan Carter, George Brown College
Jan is the Manager, Immigrant Education at George Brown College where she provides academic leadership, strategic direction and support to faculty and staff on programs and services for internationally educated professionals, including bridge training, entry advising, the Canadian Immigration Integration Program (CIIP), credential recognition and recognition for prior learning. She works with internal stakeholders to ensure the College's programs are aligned to serve the needs of immigrant students, and works collaboratively with funders, employers and newcomer service providers across Canada on systemic change initiatives that support the integration of immigrants into the college as well as out into employment. She also works closely with Entry Advising Services at the College, a unique department that provides free advice, information and referrals to newcomers who are considering post-secondary education in Canada as a pathway to attain their career goals. Previously, Jan taught English and Communications courses at Seneca College, and worked in marketing, communications management, graphic design, and journalism in various cities and towns across Ontario. Jan earned her BA in Cultural Studies and English from Trent University, a Teaching English as a Second Language (TESL) certificate from the University of Toronto, and an MBA, specializing in Brand Communication Management, from Wilfrid Laurier University.
Jose Garcia, Ryerson University
Dr. Garcia is an internationally educated professional who obtained his Ph. D and M.A. Sc. in Mechanical Engineering from the University of Toronto and his MBA  from Ryerson University. He is also a registered Professional Engineer in Ontario. Dr. Garcia has over 15 years of experience on innovation and commercialization of university developed technologies. Dr. Garcia has published and lectured extensively in scientific journals and international conferences, respectively. He is a co-inventor in several US and Canadian patents. Dr. Garcia co-founded and worked as a senior manager in a couple start up high-technology companies. Dr. Garcia is a strategic management consultant for local and international organizations. In addition, he has done extensive volunteer work with new comer, community and environmental organizations. Since 2010, He has worked at the Gateway for international educated professionals at the Raymond G. Chang School at Ryerson University as a business development associate, senior program manager and more recently as the program manager for the Mid-level managers with technical background.
Sarah Hua, World Education Services
Sarah is an International Education Recognition Advisor at World Education Services (WES). WES is a not-for-profit organization with over 30 years of experience evaluating international academic credentials. She has been with WES for over 4 years and has been involved in direct outreach with community partners and providing support and advisement to internationally-educated individuals.
Philip Ackerman, FCJ Refugee Centre
Since graduating with a Bachelor of Arts, Philip has worked extensively as an adult education instructor in Taiwan, Hong Kong and Canada. More recently, Philip has graduated from the Social Service Program at Seneca College, specializing in working with Immigrants and Refugees. For the past few years, Philip has been committed to settlement work, assisting with workshops for the Canadian Council for Refugees, volunteering in various agencies throughout the sector, and working on several projects championing the rights and protection of precarious migrant populations. Currently, Philip is working in Research and Resource Development at the FCJ Refugee Centre, which involves fundraising and coordinating the FCJ Youth Network.
Nora Priestly, York University
Nora is the Program Manager of the IEP Bridging Program (Business, IT and Human Resources) at York University.  Working on the launch of this bridging program in 2009, Nora brought a team together with her own experience from many parts of the University to make a 'one-stop office' for all IEPs interested in bridging their skills and experience to become better prepared for a successful career in Ontario.  The result is a community within a community, supported by dedicated staff and faculty that provide language training, university courses that give the Canadian context as well as professional courses towards a certificate.  The support goes beyond the classroom, providing experiential education, workshops for 'soft skills', professional mentorship, internship opportunities and career coaching.





Working many years at two of Canada's largest universities, Nora has a strong understanding of all levels of education in the Ontario university system, how foreign credentials are considered for admission and transfer credit, financial services and the importance of the other services that support success for university students, no matter what their age or educational goals.  





Nora earned a BA in Communication Studies from York University.
Bring your own immigration/settlement literature to share!
There will be an information table, so please bring any flyers, brochures or other literature related to immigration or settlement.  (If there is any information left over at the end of the event, please take it with you.)
If you have a message you would like mentioned at the end of the event, please send it to us ahead of time.
Wifi
Feel free to bring your mobile device, laptop, tablet, and take notes, share links, and be part of the online discussion.

Twitter
Also, if you haven't already, you are encouraged to join the online conversation on Twitter. 
Check out what people are already discussing and sharing on Twitter about Canadian Immigration:
Don't know what Twitter is?
That's fine! At this event we'll help you get ready to use Twitter to be part of the #CdnImm discussion. Start by downloading Twitter to your favorite mobile device, tablet or laptop computer:
Then sign up for an account on Twitter and we'll help you with the rest. 
Feel free to share this event with others, and please RSVP so we can keep a count on attendees. Space is limited!  You do not need to print your ticket.
This session run in collaboration with: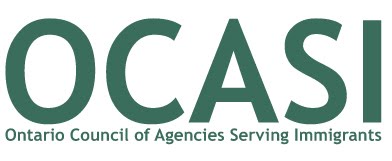 Have questions about #CdnImm Event #13 - Pursuing Further Post-secondary Education in Canada?
Contact #CdnImm Toronto
Attendee List
Sort by:

Date

|

First Name
When & Where

Northern District Library, Room 200
40 Orchard View Blvd
Toronto, ON M4R 1B9
Canada

Thursday, March 7, 2013 from 1:30 PM to 4:00 PM (EST)
Add to my calendar
Organizer
A horizontal, collaborative, participatory community of engaged knowledge workers collaborating to share insights about Canadian Immigration. Join the conversation on Twitter! https://twitter.com/#!/search/%23CdnImm
Questions? atwork@ocasi.org