#CdnImm Event #17 - Francophone Immigration to Ontario

Thursday, September 26, 2013 from 1:30 PM to 4:00 PM (EDT)
Event Details
See information and material from past events here.
Are you actively engaged in settlement service delivery or immigration research?
Do you want to connect with academics and practitioners in settlement?
If so, this is not an event to miss.
With the growth of popularity of the "#CdnImm" hashtag on Twitter, a community has coalesced online to share and discuss timely and relevant topics about Canadian immigration. The #CdnImm event series helps to promote connections, encourage further sharing of information, and expand the community of collaborators in order to enhance our understanding of the sector and improve services. 
Topic:
Francophone Immigration to Ontario:  Challenges and Opportunities
Aims:
To enhance settlement sector professionals' understanding of Francophone immigration to Ontario and specific issues facing Francophone newcomers

To create new connections and opportunities for future partnerships between Anglophone and Francophone agencies
Background
Following up on the success of #CdnImm Event #15 held in French in May 2013 on the topic of Immigration and the Francophone Community in Ontario, this event in English has been organized to bring together Anglophone and Francophone communities to discuss issues specific to Francophone immigration in Ontario.
The Francophone community in Ontario is growing. Numbered at 611,000 people in 2013, its internal diversity is a richness which can benefit the community. In terms of immigration, how can the Francophone community build a win-win partnership with the majority Anglophone community? What can Francophone agencies learn from Quebec's experience in terms of welcoming and integrating newcomers? For many observers of the Franco-Ontarian scene, the added value brought by Francophone newcomers has not been sufficiently taken into account by the mainstream Francophone community. Based on this, the following questions may be asked:  
Why is immigration an important component for the vitality of the Francophone community?

Where are we with the strategic plan and the newly created group of immigration experts?

What roles can identities play in reinforcing the feeling of belonging to the Francophone community?

What is the role of Francophone institutions in favouring the successful integration of Francophone newcomers? 
Schedule
1 - 1:30 pm:  Registration

1:30 - 1:40 pm:  Introductions

1:40 -

 3 pm:  Presentations

3 - 3:30 pm:  Q&A / Closing Remarks

3:30 - 4:00 pm:  Networking
Speakers
Lumembo Tshiswaka, Promotion & Outreach Coordinator for Etablissement.Org, OCASI - Ontario Council of Agencies Serving Immigrants
Lumembo has coordinated promotion and outreach for Etablissement.Org since 2007 and works as a bilingual community researcher in the Francophone immigrant community.  He has been involved in several research projects regarding the challenges faced by Francophone newcomers and the search for solutions. Lumembo also writes articles on topics related to immigration for community publications.
Mikale-Andrée Joly, Director of Corporate Relations, Conseil scolaire de district catholique Centre-Sud
Mikale-Andrée Joly is director of Corporate relations for the French Catholic School Board (CSDCCS). This board 
has a network of 55 schools over a geographic area extending from the Niagara Peninsula to Peterborough and 
from Lake Ontario (Toronto) to Georgian Bay. Her responsibilities at the CSDCCS include community liaison, 
internal and external communications, and affairs of the Board. In Peel-Halton, she is responsible for the 
administration of the SWIS program financed by Citizenship and Immigration Canada.  In 2012, she was elected co-chair of CIC's Community 
Connections Partnership committee, 
a role which has been renewed until 
2014. In Toronto, Hamilton-Niagara 
and Durham, she manages 
partnerships with community 
organizations who deliver SWIS 
programs in those regions. She also 
oversees the Board's participation in 
Local Immigration Partnerships in 
Simcoe, Toronto and Peel.
Erika Gates-Gasse, Senior Policy and Research Coordinator, OCASI - Ontario Council of Agencies Serving Immigrants
Erika Gates-Gasse is the Senior Policy and Research Coordinator (Bilingual) for OCASI - the Ontario Council of Agencies Serving Immigrants, as well as the staff lead for the Francophone Committee of the OCASI Board of Directors. With a background in social justice, Erika has been involved in numerous research initiatives focused on immigrants and refugees, most recently the Making Ontario Home study that examines services available to, and usage by, immigrants and refugees. 
Moderator
Zeina Farah, Content Coordinator, Etablissement.Org
Political specialist by training and experienced journalist, Zeina Farah has managed the content of Etablissement.Org since 2008. A Francophone immigrant herself, Zeina has experienced first hand the challenges faced by newcomers and linguistic minorities.  Etablissement.Org has represented an opportunity for Zeina to examine and define newcomers' problems, particularly those of Francophones, and to inform newcomers and orient them toward the services they need to help them integrate successfully and start their new future.
Bring your own immigration/settlement literature to share!
There will be an information table, so please bring any flyers, brochures or other literature related to immigration or settlement.  (If there is any information left over at the end of the event, please take it with you.)
If you have a message you would like mentioned at the end of the event, please send it to us ahead of time.
Wifi
Feel free to bring your mobile device, laptop, tablet, and take notes, share links, and be part of the online discussion.

Twitter
Also, if you haven't already, you are encouraged to join the online conversation on Twitter. 
Check out what people are already discussing and sharing on Twitter about Canadian Immigration:
Don't know what Twitter is?
That's fine! At this event we'll help you get ready to use Twitter to be part of the #CdnImm discussion. Start by downloading Twitter to your favorite mobile device, tablet or laptop computer:
Then sign up for an account on Twitter and we'll help you with the rest. 
Feel free to share this event with others, and please RSVP so we can keep a count on attendees. Space is limited!  You do not need to print your ticket.
This session run in collaboration with: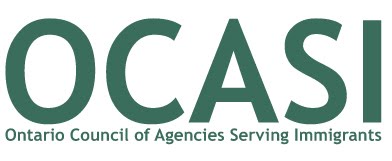 Attendee List
Sort by:

Date

|

First Name
When & Where

North York Central Library Auditorium
5120 Yonge St
Toronto, ON M2N 6L4
Canada

Thursday, September 26, 2013 from 1:30 PM to 4:00 PM (EDT)
Add to my calendar
Organizer
A horizontal, collaborative, participatory community of engaged knowledge workers collaborating to share insights about Canadian Immigration. Join the conversation on Twitter! https://twitter.com/#!/search/%23CdnImm
Questions? atwork@ocasi.org