#CdnImm event #6 - Settlement sector partnerships

Monday, July 30, 2012 from 1:00 PM to 4:00 PM (EDT)
Event Details
Are you actively engaged in settlement service delivery or immigration research?
Do you want to connect with academics and practitioners in settlement?
If so, this is not an event to miss.
With the growth of popularity of the "#CdnImm" hashtag on Twitter, a community has coalesced online to share and discuss timely and relevant topics and information about Canadian immigration. This informal event helps to form this community of online collaborators, to promote connections, encourage further sharing of information, and expand the community of collaborators. This event will host some presentations from collaborators in the sector, followed by a discussion and further information sharing from attendees. Taking place regularly, these events seek to broaden the important discussions happening in the sector as well as increasing and strengthening the bonds between collaborators to improve our understanding of the sector and to improve services. 
Event topic: 
Understanding
Sector
Partnerships
Aim: The aim of this session is to understand sector partnerships through 3 models that currently exist: Local Immigration Partnerships (LIPs),Consortium of Agencies Serving Internationally-trained Persons (CASIP) and the Community Navigation and Access Program (CNAP).  The speakers will give an overview of each of these partnerships, how they work, what they achieve, how they improve services as well as discuss some of the successes and challenges involved with maintaining them. 
Aleksandra Walczak – CASIP (Employment Services network)
Aleksandra Walczak is Project Manager at the Consortium of Agencies Serving Internationally-trained Persons (CASIP), a group of 8 agencies and colleges which have been collaborating since 1998 to drive innovation, advocacy and excellence in employment services for skilled immigrants and employers in the GTA.  Aleks currently oversees both the Employer Services Network and Governance & Collaborative Leadership Development projects.  CASIP member organizations include:  ACCES Employment, COSTI Immigrant Services, Humber College Community Employment Services, JobStart, JVS Toronto, Community Microskills Development Centre, Seneca College, and Skills for Change.
With experience spanning the health, academic and non-profit sectors, Aleks' work focuses on driving strategic collaboration within and across organizations.  She holds a Master of Arts from York University, specializing in Canadian Policy; Honours Bachelor of Arts from University of Toronto; and Certificates in Negotation from University of Windsor Law School and Project Management from University of Toronto.
Seonag Macrae – CNAP (Senior Services network) 
Seonag Macrae is a seasoned healthcare executive and is currently the Vice President of Community Care and Wellness for Seniors at WoodGreen Community Services.  Seonag is also the chair of CNAP (Community Navigation and Access Program) which is a network of 33 community service agencies that provide a variety of community based supports to seniors. 
Committed to building community sustainability through volunteerism, Seonag is an active Director on the Boards of Surrey Place Center, and the Ontario Foundation for Visually Impaired Children and was previously a Board Director at Toronto's Ronald McDonald House and WoodGreen Community Services. 
Seonag holds a Masters of Business Administration from the Richard Ivey School of Business at the University of Western Ontario, a Masters of Science in Nursing from the University of Portland, and a Certificate in Strategic Change Management from the Rotman School of Business at the University of Toronto.
Sandra Guerra – LIP (Settlement Services network)
Sandra Guerra is the Partnership Coordinator for the Toronto South Local Immigration Partnership (LIP).  The LIP projects aim to coordinate services for newcomers through collaboration across sectors, improve labour market outcomes and create welcoming communities. Sandra facilitates the Systemic Issues and Social Change workgroup and coordinates the projects communications through online, print and social media.  
Sandra has worked in the housing sector, developing networks with housing agencies and as a community developer working with both residents and agencies to create networks, partnerships and address local issues.
Sandra holds a Bachelor of Fine Arts from York University, a Masters of Science in Community Economic Development from Southern New Hampshire University and a Certificate in Non-Profit Management from York University-Maytree. 
Bring your own immigration/settlement literature to share!
There will also be an information table - please bring any flyers, brochures or any other literature you would like shared broadly. About anything immigration or settlement related! 
If you have a message you would like mentioned at the end of the event, please send it to me and I will shout it out.
Wifi!
Feel free to bring your mobile device, laptop, tablet, and take notes, share links, and be part of the online discussion.

Twitter
Also, if you're not already, I encourage you again to get on board with twitter. 
Check out what people are already discussing and sharing on twitter about Canadian Immigration:
Don't know what Twitter is?
That's fine! At this event we'll help you get ready using twitter and being part of the #CdnImm discussion. Get ready by downloading Twitter to your favorite mobile device, tablet or laptop computer:
Then sign up for an account on Twitter and we'll help you with the rest. 
12:45-1:15pm: Registration, Setup

1:15pm: Welcome, intros, about information sharing

Presentation by each speaker (40 minutes)

Q&A

Panel discussion

Open floor (attendees can mention their projects)

Closing
Feel free to share this event with others, and please RSVP so we can prepare nametags and keep a count on attendees. Space is limited!
This session run in collaboration with: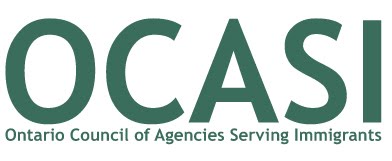 Attendee List
Sort by:

Date

|

First Name
When & Where

WoodGreen Community Services (at Jones - midway between Pape and Donlands subway stations) 3rd Floor, Room 5
815 Danforth Ave
Toronto, ON M4J 1L2
Canada

Monday, July 30, 2012 from 1:00 PM to 4:00 PM (EDT)
Add to my calendar
Organizer
A horizontal, collaborative, participatory community of engaged knowledge workers collaborating to share insights about Canadian Immigration. Join the conversation on Twitter! https://twitter.com/#!/search/%23CdnImm
Questions? atwork@ocasi.org