#CdnImm Event #9 - Bridging Programs for Newcomers

Thursday, November 15, 2012 from 1:00 PM to 4:00 PM (EST)
Event Details
Notes from the last event are available here.
Are you actively engaged in settlement service delivery or immigration research?
Do you want to connect with academics and practitioners in settlement?
If so, this is an event not to miss.
With the growth of popularity of the "#CdnImm" hashtag on Twitter, a community has coalesced online to share and discuss timely and relevant topics and information about Canadian immigration. This informal event helps to form this community of online collaborators, to promote connections, encourage further sharing of information, and expand the community of collaborators. This event will host some presentations from collaborators in the sector, followed by a discussion and further information sharing from attendees. Taking place regularly, these events seek to broaden the important discussions happening in the sector as well as increasing and strengthening the bonds between collaborators to improve our understanding of the sector and to improve services. 
Event topic: Bridging Programs for Newcomers
Aims
To understand some of the current practices and challenges with bridge training

To 

consider the options ahead to improve services and and employment outcomes for newcomers
Speakers
Mallika Indran, Project Manager, Bridge Training for Internationally Trained Psychologists and Mental Health Professionals, Mennonite New Life Centre of Toronto
Pathways to Employment in Canadian Mental Health is a program that integrates academic training for mental health practice in Ontario, occupation specific language and workplace communication, and supervised clinical training that provides meaningful Canadian work experience. This innovative project combines the requirements of employers seeking skilled staff and the desire of internationally educated professionals seeking a rapid and effective integration into Canadian workplaces.
Jose A. Garcia, P. Eng., Ph. D, MBA – Progam Manager, Middle-level Managers (MLM) Bridging Program, G. Raymond Chang School of Continuing Education, Ryerson University 
Dr. Garcia obtained his Ph. D and M.A. Sc. in Mechanical and Industrial Engineering from theUniversity of Toronto. He also obtained an MBA with specialization in Technology andInnovation from Ryerson University. He is a registered Professional Engineer in Ontario.Dr. Garcia has over 15 years of experience in innovation and commercialization of universitydeveloped technologies. Dr. Garcia has published and lectured extensively in scientific journalsand international conferences, respectively. He is a co-inventor in several US and Canadianpatents. Dr. Garcia co-founded and worked as a senior manager in a couple of start-up high-technology companies. Dr. Garcia is a strategic management consultant for local andinternational organizations. In addition, he has done extensive volunteer work with newcomer,community and environmental organizations. Since 2010, he has worked at the Gateway forinternational educated professionals at the Raymond G. Chang School at Ryerson University as abusiness development associate, senior program manager and more recently as the actingprogram manager for the Mid-level managers with technical background.
TBD, Toronto and Region Conservation (TRCA), Bridge Training
TRCA works with partners to help foreign-trained environmental professionals reach their professional goals in Canada. Currently, TRCA leads two programs:
Professional Access and Integration Enhancement (PAIE) is an Ontario bridge training program that provide access to professional opportunities in the environmental sector for internationally trained Engineers and Geoscientists new to Canada.
Mentoring to Placement for Environmental Professionals (M2P) Program is an Ontario bridge training program that opens the door to employment opportunities for 40 internationally trained environmental professionals.
TBD, Global Experience Ontario (GEO), Ministry of Citizenship and Immigration (MCI)
Global Experience Ontario can help internationally trained and educated individuals find out how to qualify for professional practice in Ontario. This one-stop centre offers a range of services for internationally educated individuals.  The GEO centre provides information for people who intend to apply to a regulatory body to obtain licensure to work in their field. Knowledgeable staff can explain the process for licensing and registration in Ontario. English and French services are available in person, by telephone and online. Staff at the GEO centre also respond to information requests from prospective newcomers.
Schedule
1 - 1:15 pm:  Registration

1:15 - 1:20 pm:  Introductions

1:20 - 3 pm:  Presentations

3 - 3:30 pm:  Q&A / Closing Remarks

3:30 - 4:00 pm:  Networking
Bring your own immigration/settlement literature to share!
There will be an information table, so please bring any flyers, brochures or other literature related to immigration or settlement.  (If there is any information left over at the end of the event, please take it with you.)
If you have a message you would like mentioned at the end of the event, please send it to us ahead of time.
Wifi
Feel free to bring your mobile device, laptop, tablet, and take notes, share links, and be part of the online discussion.

Twitter
Also, if you haven't already, you are encouraged to join the online conversation on Twitter. 
Check out what people are already discussing and sharing on Twitter about Canadian Immigration:
Don't know what Twitter is?
That's fine! At this event we'll help you get ready to use Twitter to be part of the #CdnImm discussion. Start by downloading Twitter to your favorite mobile device, tablet or laptop computer:
Then sign up for an account on Twitter and we'll help you with the rest. 
Feel free to share this event with others, and please RSVP so we can keep a count on attendees. Space is limited!  You do not need to print your ticket.
This session run in collaboration with: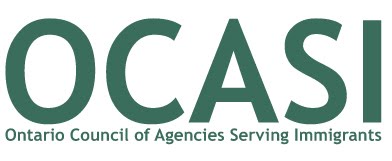 Attendee List
Sort by:

Date

|

First Name
When & Where

North York Central Library Auditorium
5120 Yonge St
Toronto, ON M2N 6L4
Canada

Thursday, November 15, 2012 from 1:00 PM to 4:00 PM (EST)
Add to my calendar
Organizer
A horizontal, collaborative, participatory community of engaged knowledge workers collaborating to share insights about Canadian Immigration. Join the conversation on Twitter! https://twitter.com/#!/search/%23CdnImm
Questions? atwork@ocasi.org