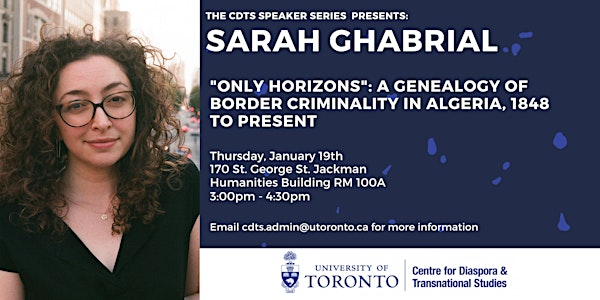 CDTS Speaker Series: Sarah Ghabrial
Please join the Centre for Diaspora and Transnational Studies as we welcome Professor Sarah Ghabrial for a lecture engagement.
When and where
Location
Jackman Humanities Building, Room 100 170 Saint George Street Toronto, ON M5R 2M8 Canada
About this event
About the Lecture:
"Only Horizons": A Genealogy of Border Criminality in Algeria, 1848 to present"
This talk broadly sketches a trans-Mediterranean genealogy of 'border criminality' – defined here as the de-legalization, bureaucratization, racialization, and policing of particular modes of mobility – from the French colonial occupation of Algeria through to the present neocolonial relationship between Europe and the Maghreb. It traces the continuities of a set of penal, judicial, and bureaucratic instruments – land sequestration, identity papers, passports, travel permits, house arrests, vagrancy laws, administrative detention, and deportation, among others. This work takes its methodological cues from the figure of the harraga ('clandestine migrant' in Maghrebi colloquial Arabic), whose sojourns reveal state law to be arbitrary – that is, an inorganic and violently imposed externality.