A Midsummers night Dream prom at Wildflowers Farm
About this event
Celebrate the end of highschool with your fellow classmates in a magical Midsummers Night Dream prom, located at Wildflowers Farm.
This festival style prom will have music, photo booths and lots of photo opportunities amongst the wildflowers fields! Featuring a FOOD SHOWCASE - a collection of local food vendors offering festival style food- think nachos, tacos, pizza, sliders including an ice cream sundaes booth!
Due to COVID rules and regulations, we are only offering the first round of tickets to graduating students, with a limit of 70 tickets per seating.
LOCKDOWN DATE: if we can't quite get out and celebrate, our postponement date is July 17th, 1-4pm
30 additional tickets for guests may be added at a later date depending on the number of tickets sold.
Check your email for all the details and to print your ticket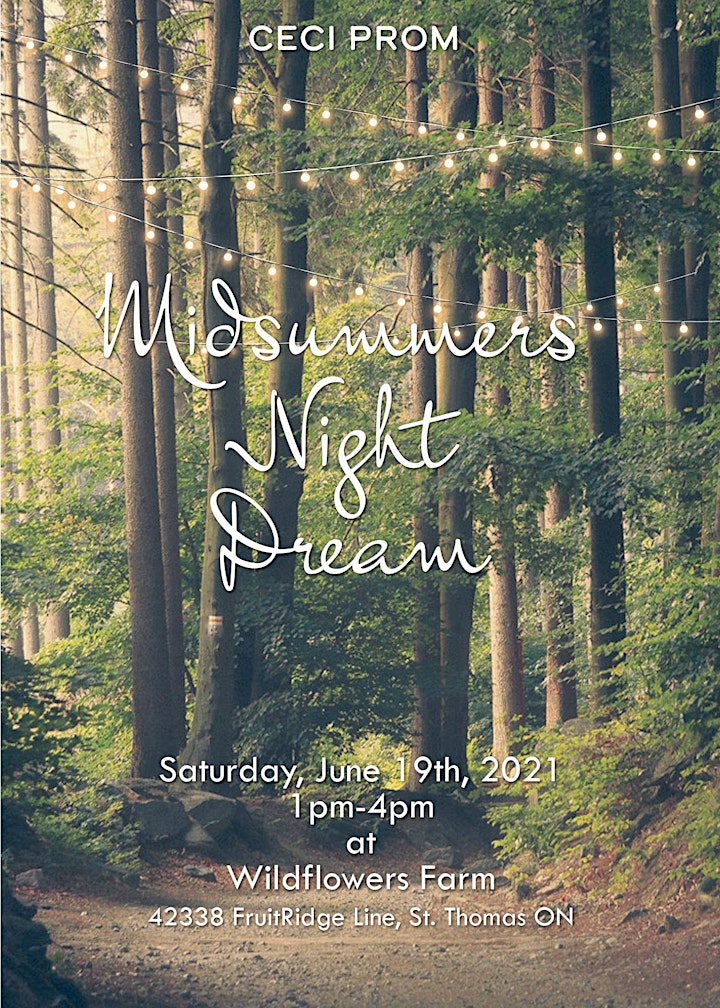 Organizer of CECI Prom A Midsummers Night Dream 1pm
Along a tree lined drive, nestled in amongst the flowers and apiary sits a farm store, home of Wildflowers Tea and Honey. Offering a variety of handcrafted herbal teas, herbal infused bath products, and their farm honey. The farm store also hosts Wildflowers Wellness, a holistic practice, which offers Yoga, Meditation and one on one wellness consultations, with Registered Herbalist and Ayurvedic Yoga instructor, Jane Magri. Whether you come to shop and sip tea, stroll through the gardens or attend one of the many workshops, classes or seasonal festivals; Wildflowers Farm will leave you with a sense of calm, community and connection to nature.