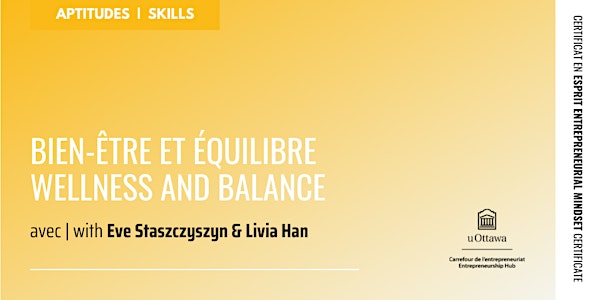 CEE : Bien-être et équilibre | EMC: Wellness & Balance
Apprenez à mieux gérer votre temps et ses effets sur votre vie. | Learn to better understand your time and its effects on your life.
About this event
[An English message will follow]
Vous avez entendu parler de la gestion du temps, mais qu'en est-il de la gestion de l'énergie ? Nous vivons dans un monde où nous pouvons avoir l'impression d'avoir des responsabilités sans fin, de ne pas avoir assez de temps et de nous sentir constamment débordés par les tâches quotidiennes. L'optimisation de votre temps et de votre énergie est la clé d'un bien-être holistique et d'un sentiment d'équilibre. Nous partagerons avec vous des outils et des méthodes pratiques qui vous aideront à être plus conscient de vous-même, afin que vous puissiez être plus efficace, plus performant et plus heureux. Cet atelier est un espace pour vous permettre de mieux comprendre le temps et ses effets sur votre vie. Parmi les sujets que nous aborderons, citons
Réflexions sur soi pour mieux comprendre vos sources d'énergie uniques (les sources d'énergie qui vous drainent et celles qui vous donnent de l'énergie)
Distinguer les tâches urgentes et importantes, afin de mieux définir les priorités
Apprendre à optimiser les périodes de productivité
Techniques pour une meilleure gestion des tâches
Comprendre les moments de la journée qui vous conviennent le mieux pour certaines tâches et comment créer votre flux de travail de manière à optimiser ces périodes
Cet atelier proposera des outils concrets que vous pourrez appliquer à votre vie pour commencer à vous sentir plus énergique, plus productif et plus efficace.
Prérequis
Aucun!
Règles de base
D'abord et avant tout, il s'agit d'un atelier pratique et nous sommes ici pour apprendre ensemble, faire des erreurs, poser des questions et collaborer afin que vous puissiez apprendre de manière intuitive.
Bien que l'ensemble de nos ateliers soit offert en ligne cet automne, nous souhaitons simuler de plus près une expérience d'apprentissage en personne. Par conséquent, il serait utile que vous démarrez votre webcaméra lors de l'atelier. Bien sûr, si vous n'avez pas n'y avez pas accès, nous encourageons votre présence tout de même. On demande tout simplement votre patience et votre désir d'apprendre.
* Cet atelier est offert en anglais seulement.
--
You've heard about time management, but what about energy management? We live in a world where it may feel like we have never ending responsibilities, feeling like we don't have enough time, and feeling constantly overwhelmed with day-to-day tasks. Optimizing your time and energy is key to holistic wellness and feeling balanced. We'll be sharing practical tools and methods that will help you be more self-aware so that you can be more efficient, effective, and happy. This workshop is a space for you to better understand the time and its effects on your life. Topics we will cover include:
Self-reflections to better understand your unique energy sources (energy drainers & energy givers)
Differentiating between urgent and important tasks, in order to better prioritize
Learning how to optimize productivity periods
Techniques for better task management
Understanding times of the day that work best for you for certain tasks and how to create your workflow in a way that optimizes those periods
This workshop will offer tangible tools you can apply to your life to start feeling more energized, productive, and effective.
Prerequisites
None!
House keeping rules
Above all, it is a practical session, and we are here to learn together, make mistakes, ask questions & collaborate so that we can learn intuitively.
Despite all workshops being online this fall, we are trying to emulate the in-person experience as best as we can, which would benefit from you having your camera on during workshop unless of course you don't have access to a webcam, in which case we still encourage your presence. Our only requirement from you is that you are eager to learn!
*This event is offered in English only.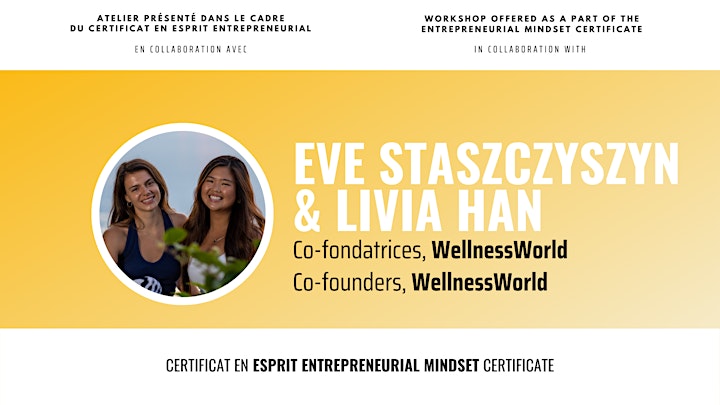 Je suis un apprenant dynamique, un yogi spontané, un violoniste improvisé, un défenseur de la santé mentale et un croyant hors des sentiers battus. J'entame ma dernière année d'études en développement international et mondialisation avec une mineure en gestion à l'Université d'Ottawa. Je suis le co-fondateur de WellnessWorld, un portail numérique de bien-être et d'engagement pour les établissements d'enseignement. De plus, je suis un instructeur de yoga certifié par Power Yoga Canada et j'ai enseigné le yoga au Africa Yoga Project à Nairobi, au Cornerstone Women's Shelter à Ottawa, et à Power Yoga Canada dans ma ville natale, Oakville.
Je suis un passionné de la vie et de la nourriture et un optimiste dans l'âme. Je crois que tout est possible avec un bon état d'esprit et des gens qui te soutiennent. Je suis en dernière année d'études en gestion internationale à l'Université d'Ottawa. Une de mes passions actuelles est d'étudier pour devenir un coach en santé holistique certifié à l'IIN ! J'aime mélanger ma curiosité et mon amour pour les gens x le bien-être x la technologie partout où je vais et dans tout ce que je fais ! Je suis le co-fondateur de WellnessWorld, un portail numérique de bien-être et d'engagement pour les établissements d'enseignement.
---
I am a dynamic learner, spontaneous yogi, jamming violinist, mental health advocate, and out-of-the-box believer. I am entering my final year of International Development and Globalization studies with a minor in Management at the University of Ottawa. I am the Co-Founder of WellnessWorld, a digital wellness and engagement portal for educational institutions. Additionally, I am a Power Yoga Canada certified yoga instructor and have taught yoga at the Africa Yoga Project in Nairobi, at the Cornerstone Women's Shelter in Ottawa, and Power Yoga Canada in my hometown, Oakville.
I am a life and food enthusiast and an optimist at heart. I believe that anything is possible with the right mindset and people supporting you. I am in my final year of studies in International Management at the University of Ottawa. One of my current passions include studying to become a certified Holistic Health Coach at IIN! I love to blend my curiosity and love for people x wellness x tech wherever I go and in everything I do! I am the Co-Founder of WellnessWorld, a digital wellness and engagement portal for educational institutions.
WellnessWorld: www.wellnessworld.ca
About WellnessWorld: www.mywellnessworld.ca/