CEE: Canevas du modèle d'affaires d'entreprise sociale | EMC: Social BMC
Transformez votre idée de social business en un modèle commercial ! | Transform your social business idea into a business model!
About this Event
[An English message will follow]
Maintenant que tu connais les bases des entreprises sociales et que tu sais comment déclencher un changement social par le biais des affaires - qu'est-ce qui vient ensuite pour ton idée sociale ? Commence à transformer ton idée en entreprise en mettant un stylo sur le papier ! Cet atelier te montrera comment adapter l'outil Business Model Canvas à ton entreprise sociale et créer une esquisse de ton idée.
Prérequis
Aucun!
Règles de base
D'abord et avant tout, il s'agit d'un atelier pratique et nous sommes ici pour apprendre ensemble, faire des erreurs, poser des questions et collaborer afin que vous puissiez apprendre de manière intuitive.
Bien que l'ensemble de nos ateliers soit offert en ligne cet automne, nous souhaitons simuler de plus près une expérience d'apprentissage en personne. Par conséquent, il serait utile que vous démarrez votre webcaméra lors de l'atelier. Bien sûr, si vous n'avez pas n'y avez pas accès, nous encourageons votre présence tout de même. On demande tout simplement votre patience et votre désir d'apprendre.
* Cet atelier est offert en anglais seulement.
--
Now that you know the basics of social enterprises and how to spark social change through business – what comes next for your social idea? Start transforming your idea into a business by putting pen to paper! This workshop will walk you through how to adapt the Business Model Canvas tool to fit your social enterprise and create a rough sketch of your idea.
Prerequisites
None!
House keeping rules
Above all, it is a practical session, and we are here to learn together, make mistakes, ask questions & collaborate so that we can learn intuitively.
Despite all workshops being online this fall, we are trying to emulate the in-person experience as best as we can, which would benefit from you having your camera on during workshop unless of course you don't have access to a webcam, in which case we still encourage your presence. Our only requirement from you is that you are eager to learn!
*This event is offered in English only.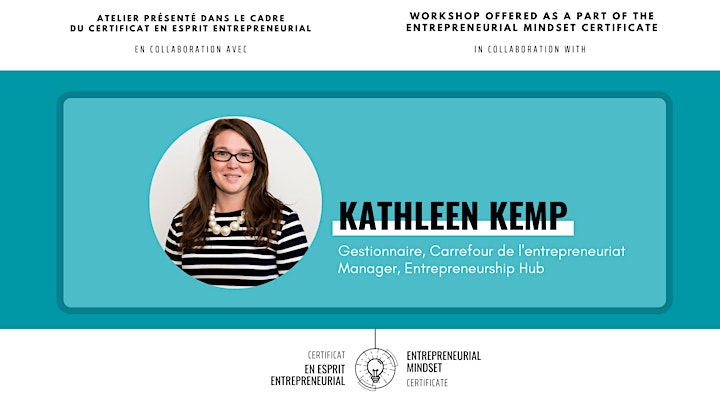 Kathleen Kemp
Kathleen Kemp a obtenu en 2015 un baccalauréat en commerce de l'Université d'Ottawa à l'École de gestion Telfer. Entrepreneure depuis son plus jeune âge, Kathleen a été la présidente de l'équipe Enactus de l'Université d'Ottawa de 2013 à 2015, remportant l'Exposition nationale du Canada avec son équipe en 2015 avec son entreprise CigBins. Kathleen a été officiellement directrice du Centre for Social Enterprise Development, travaillant avec de nombreuses entreprises sociales à travers Ottawa pour les aider à développer leurs activités. Elle tient maintenant à soutenir la communauté universitaire dans ses efforts d'entrepreneuriat en tant que directrice du Centre pour l'entrepreneuriat. Kathleen a récemment obtenu une maîtrise en développement communautaire de l'Université de Victoria, où elle a passé la plupart de son temps à étudier les accords de prestations communautaires. Elle siège au conseil d'administration de United Way East Ontario et préside le cabinet GenNext de Untied Way.
--
Kathleen Kemp
Kathleen Kemp graduated from the University of Ottawa in 2015 with a Bachelor of Commerce from the Telfer School of Management. An entrepreneur from a young age, Kathleen was the President of the Enactus uOttawa team from 2013-2015, winning the National Canada Exposition with her team in 2015 with her company CigBins. Kathleen was formally a Director with the Centre for Social Enterprise Development, working with many social enterprises across Ottawa to help develop their businesses. She is now keen on supporting the University community with their entrepreneurial endeavours as her role as Manager of the Entrepreneurship Hub. Kathleen recently graduated from the University of Victoria with a Master of Arts in Community Development, where she spent most of her time studying community benefit agreements. She serves on the Board of Directors for United Way East Ontario and Chairs the Untied Way's GenNext Cabinet.