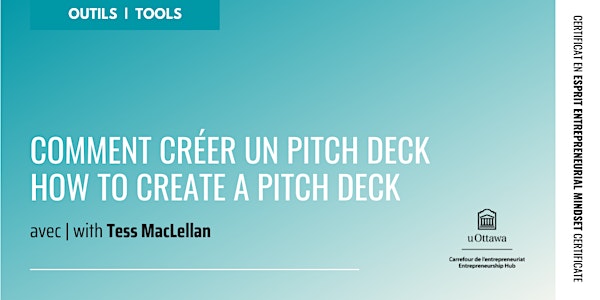 CEE : Comment créer un pitch deck | EMC: How to Create a Pitch Deck
Joignez-nous pour apprendre à créer un pitch deck ! | Join us to learn how to create a pitch deck!
About this event
[An English message will follow]
Si vous avez une entreprise ou une idée, vous aurez probablement besoin d'un financement pour l'aider à se développer. Les Pitch Decks sont une présentation de diapositives qui aident à raconter une histoire convaincante de votre entreprise ! Ils peuvent être utilisés pour communiquer vos idées à des financiers potentiels, afin de les enthousiasmer pour votre entreprise. Rejoignez-nous pour apprendre quelques trucs et astuces sur la création d'un pitch deck bien organisé !
Prérequis
Aucun!
Règles de base
D'abord et avant tout, il s'agit d'un atelier pratique et nous sommes ici pour apprendre ensemble, faire des erreurs, poser des questions et collaborer afin que vous puissiez apprendre de manière intuitive.
Bien que l'ensemble de nos ateliers soit offert en ligne cet automne, nous souhaitons simuler de plus près une expérience d'apprentissage en personne. Par conséquent, il serait utile que vous démarrez votre webcaméra lors de l'atelier. Bien sûr, si vous n'avez pas n'y avez pas accès, nous encourageons votre présence tout de même. On demande tout simplement votre patience et votre désir d'apprendre.
* Cet atelier est offert en anglais seulement.
--
If you have a business or an idea, you will probably need some financing to help grow it. Pitch Decks are a presentation of slides that help tell a compelling story of your business! They can be used to help communicate your ideas with potential financiers, to get them excited about your business. Join us to learn some tips and tricks about creating a well-organized pitch deck!
Prerequisites
None!
House keeping rules
Above all, it is a practical session, and we are here to learn together, make mistakes, ask questions & collaborate so that we can learn intuitively.
Despite all workshops being online this fall, we are trying to emulate the in-person experience as best as we can, which would benefit from you having your camera on during workshop unless of course you don't have access to a webcam, in which case we still encourage your presence. Our only requirement from you is that you are eager to learn!
*This event is offered in English only.