Venez acquérir des aptitudes et connaissances en créativité en entreprise !
About this event
This workshop is also offered in English. To access the English event, click here.
Que vous démarriez ou travailliez dans une entreprise ou organisation, au cœur de toute action et réussite entrepreneuriale, vous trouverez de la créativité et l'innovation. Cet atelier discutera de l'importance de ceci dans un contexte commercial. A travers des activités interactives, nous vous fournirons des outils pour développer vos propre pouvoir créatif afin que vous puissiez améliorer vos capacités à trouver de nouvelles façons de voir des problèmes et des opportunités, les transformant en solutions innovantes!
Prérequis
Aucun!
Règles de base
D'abord et avant tout, il s'agit d'un atelier pratique et nous sommes ici pour apprendre ensemble, faire des erreurs, poser des questions et collaborer afin que vous puissiez apprendre de manière intuitive.
Bien que l'ensemble de nos ateliers soit offert en ligne cet automne, nous souhaitons simuler de plus près une expérience d'apprentissage en personne. Par conséquent, il serait utile que vous démarrez votre webcaméra lors de l'atelier. Bien sûr, si vous n'avez pas n'y avez pas accès, nous encourageons votre présence tout de même. On demande tout simplement votre patience et votre désir d'apprendre.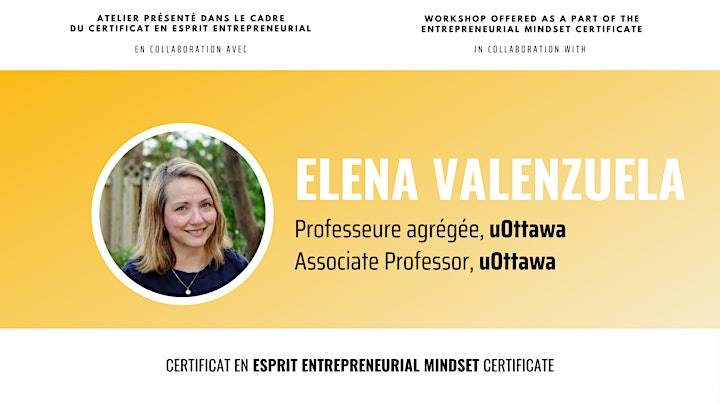 Elena Valenzuela
Elena Valenzuela est professeur associé au département de langues et littératures modernes. Ses recherches portent sur l'acquisition des langues et le bilinguisme. Elle examine les processus qui sous-tendent le développement des langues secondes ainsi que des langues patrimoniales et des langues des immigrants. Elle est actuellement directrice du programme d'études supérieures d'espagnol et directrice de l'option Entrepreneuriat, Créativité et Innovation sociale à la Faculté des Arts où elle enseigne la créativité et l'innovation et explore le lien entre la méthode créative et la méthode scientifique.
Twitter: @Prof_Elena
Organizer of CEE : Créativité et innovation