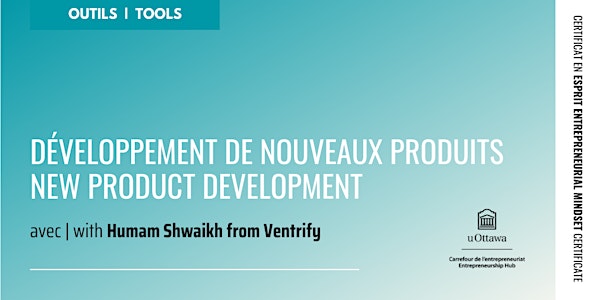 CEE : Développement de nouveaux produits | EMC: New Product Development
Vous cherchez à fabriquer un produit ? | Are you looking to start manufacturing a product?
About this event
[An English message will follow]
Vous avez une idée de projet entrepreneurial axé sur un produit ? Vous cherchez à franchir les premières étapes de la fabrication ?
Pour de nombreux entrepreneurs, la création de leur premier produit peut sembler une tâche impossible. Cet atelier vous fera découvrir les bases du processus de conception, en soulignant les premières étapes, les choses que vous pouvez faire vous-même et ce à quoi vous pouvez vous attendre si vous choisissez de travailler avec un partenaire de développement de produits.
Cet atelier sera animé par Humam Shwaikh, directeur technique de Ventrify, une société de conception, d'ingénierie et de fabrication de nouveaux produits qui aide les entrepreneurs à transformer leurs idées en produits, en leur fournissant une solution complète de développement de produits.
Prérequis
Aucun!
Règles de base
D'abord et avant tout, il s'agit d'un atelier pratique et nous sommes ici pour apprendre ensemble, faire des erreurs, poser des questions et collaborer afin que vous puissiez apprendre de manière intuitive.
Bien que l'ensemble de nos ateliers soit offert en ligne cet automne, nous souhaitons simuler de plus près une expérience d'apprentissage en personne. Par conséquent, il serait utile que vous démarrez votre webcaméra lors de l'atelier. Bien sûr, si vous n'avez pas n'y avez pas accès, nous encourageons votre présence tout de même. On demande tout simplement votre patience et votre désir d'apprendre.
* Cet atelier est offert en anglais seulement.
--
Do you have an idea for a product-focused entrepreneurial venture? Are you looking to take the first steps to begin manufacturing?
For many entrepreneurs, creating your first product can seem like an impossible task. This workshop will walk you through the basics of the design process, highlighting the first steps, the things you can do yourself, and what you can expect if you choose to work with a product development partner.
This workshop will be delivered by Humam Shwaikh, the CTO at Ventrify, a new-product design, engineer, and manufacture firm that helps entrepreneurs transform ideas into products – providing a full service product development solution.
Prerequisites
None!
House keeping rules
Above all, it is a practical session, and we are here to learn together, make mistakes, ask questions & collaborate so that we can learn intuitively.
Despite all workshops being online this fall, we are trying to emulate the in-person experience as best as we can, which would benefit from you having your camera on during workshop unless of course you don't have access to a webcam, in which case we still encourage your presence. Our only requirement from you is that you are eager to learn!
*This event is offered in English only.