CEE: Développer une marque intrapreneuriale
Apprends à développer une nouvelle marque au sein d'une organisation !
About this event
This workshop is also hosted in English at the same time! You can register here. You will be able to join either event on the day of!
Un intrapreneur est un employé qui met à profit son esprit d'entrepreneurial et ses compétences au sein d'une organisation existante, plutôt que de se lancer seul.
Dans cet atelier, apprends les tenants et aboutissants du développement d'une nouvelle image de marque passionnante tout en travaillant au sein d'une organisation. Nous nous plongerons dans la création d'un message de marque principal, positionnerons votre marque et développerons des personnalités de marque innovantes par le biais d'activités et d'exemples engageants. Ces compétences peuvent être utilisées pour développer une image de marque pour ta propre entreprise !
Prérequis
Aucun!
Règles de base
D'abord et avant tout, il s'agit d'un atelier pratique et nous sommes ici pour apprendre ensemble, faire des erreurs, poser des questions et collaborer afin que vous puissiez apprendre de manière intuitive.
Bien que l'ensemble de nos ateliers soit offert en ligne cet automne, nous souhaitons simuler de plus près une expérience d'apprentissage en personne. Par conséquent, il serait utile que vous démarrez votre webcaméra lors de l'atelier. Bien sûr, si vous n'avez pas n'y avez pas accès, nous encourageons votre présence tout de même. On demande tout simplement votre patience et votre désir d'apprendre.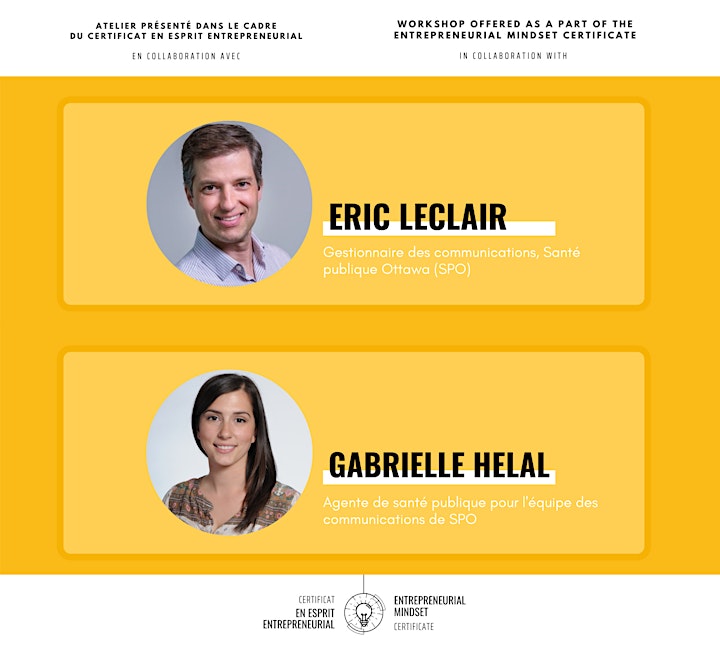 Eric Leclair
Dans mon rôle de gestionnaire des communications à Santé publique Ottawa, je contribue à l'élaboration des stratégies et des programmes, ainsi que des activités de communications internes et externes via une panoplie de mécanismes et de type de médias tels le Web, médias sociaux, relations avec les médias, vidéographie, publicité, et ainsi de suite….
….mais ma mission ultime est de rallier et inspirer un groupe de créateur et créatrice qui inclut communicateur, professionnel de la santé, artiste qui ont comme objectif de maximiser l'échange d'information et de connaissances avec nos publics cibles.
Gabrielle Helal
Gabrielle Helal est une nutritionniste en santé publique, actuellement déployée comme agente de santé publique pour l'équipe des communications de SPO. Elle soutient le travail de l'équipe de médias sociaux, aidant à rédiger du contenu et à surveiller les comptes. De plus, elle travaille à la création de contenu unique pour la communauté francophone qui est adapté au contexte local.
Organizer of CEE: Développer une marque intrapreneuriale