CEE: Fondements de canva| EMC: Canva Basics
About this Event
[An English message will follow]
Vous aimeriez quelques conseils de base en graphisme? L'atelier s'adresse à toute personne qui doit créer des logos, des illustrations pour les médias sociaux, des bannières, etc. Nous vous présenterons Canva, un outil en ligne gratuit que vous pourrez utiliser pour combler vos besoins.
Prérequis
Aucun!
Règles de base
D'abord et avant tout, il s'agit d'un atelier pratique et nous sommes ici pour apprendre ensemble, faire des erreurs, poser des questions et collaborer afin que vous puissiez apprendre de manière intuitive.
Bien que l'ensemble de nos ateliers soit offert en ligne cet automne, nous souhaitons simuler de plus près une expérience d'apprentissage en personne. Par conséquent, il serait utile que vous démarrez votre webcaméra lors de l'atelier. Bien sûr, si vous n'avez pas n'y avez pas accès, nous encourageons votre présence tout de même. On demande tout simplement votre patience et votre désir d'apprendre.
* Cet atelier est offert en anglais seulement.
--
Do you want to learn some tips and tricks to design that don't cost a fortune? Useful for anyone creating logos, social media graphics, banners, etc! We'll walk you through the basics of using Canva, a free online design tool that will get you what you need!
Prerequisites
None!
House keeping rules
Above all, it is a practical session, and we are here to learn together, make mistakes, ask questions & collaborate so that we can learn intuitively.
Despite all workshops being online this fall, we are trying to emulate the in-person experience as best as we can, which would benefit from you having your camera on during workshop unless of course you don't have access to a webcam, in which case we still encourage your presence. Our only requirement from you is that you are eager to learn!
*This event is offered in English only.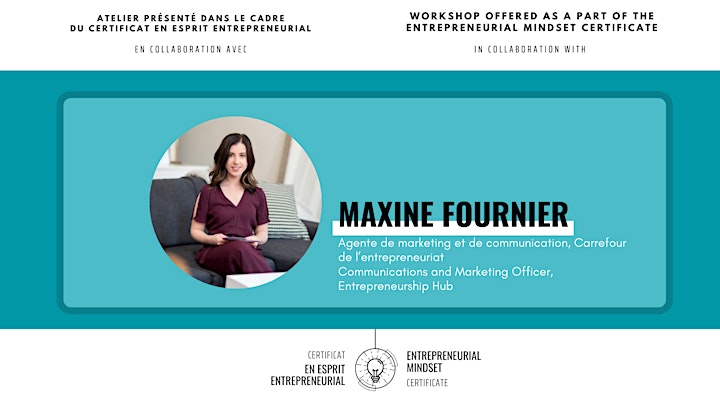 Maxine Fournier
Maxine Fournier est la responsable du marketing et des communications du Centre pour l'entrepreneuriat (eHub) de l'Université d'Ottawa. Elle joue un rôle important dans la sensibilisation à l'eHub et à ses offres, en mettant en lumière des histoires intéressantes et en contribuant à l'esprit d'entreprise général sur le campus. Diplômée de l'Université d'Ottawa, Maxine a obtenu en 2014 un baccalauréat spécialisé en communications et une mineure en administration des affaires. En 2016, elle a lancé sa propre marque de papeterie et a été présentée dans un certain nombre de magasins locaux. En tant qu'ancienne étudiante et employée de la Faculté des arts, Maxine s'efforce de combiner sa passion pour l'entrepreneuriat et tout ce qui est créatif.
---
Maxine Fournier
Maxine Fournier is the Marketing and Communications Officer at the University of Ottawa's Entrepreneurship Hub (eHub). She plays an important role in creating awareness around the eHub and its offerings, highlighting interesting stories, and contributing to the overall entrepreneurial mindset on campus. A uOttawa alum, Maxine graduated in 2014 with an Honours BA in Communications and a minor in Business Administration. In 2016, she launched her very own stationery brand and was featured in a number of local stores. As a former student and employee of the Faculty of Arts, Maxine strives to combine her passion for entrepreneurship and all things creative.