Joignez-nous pour apprendre les fondamentaux de la création d'idée! | Join us and learn the fundamentals of generating ideas!
About this event
[An English message will follow]
Les gens présument souvent qu'être entrepreneurial implique une idée conçue qui est ensuite transformée en entreprise – FAUX! Vous pouvez être un entrepreneur.e ou avoir un esprit entrepreneurial sans avoir une idée élaborée dès le départ.
Cet atelier vous enseignera les fondamentaux de la création d'idée. Joignez-nous pour apprendre une foule de trucs et astuces sur la conception d'idées entrepreneuriales et comment les améliorer à travers une variété de techniques. Le but ultime de cet atelier est de vous aider à développer vos capacités à percevoir et à tirer parti des possibilités qui vous entourent qui pourraient être transformées en réalité!
Prérequis
Aucun!
Règles de base
D'abord et avant tout, il s'agit d'un atelier pratique et nous sommes ici pour apprendre ensemble, faire des erreurs, poser des questions et collaborer afin que vous puissiez apprendre de manière intuitive.
Bien que l'ensemble de nos ateliers soit offert en ligne cet automne, nous souhaitons simuler de plus près une expérience d'apprentissage en personne. Par conséquent, il serait utile que vous démarrez votre webcaméra lors de l'atelier. Bien sûr, si vous n'avez pas n'y avez pas accès, nous encourageons votre présence tout de même. On demande tout simplement votre patience et votre désir d'apprendre.
* Cet atelier est offert en anglais seulement.
-----
People often assume that being entrepreneurial means having an established idea and turning that idea into a business – WRONG! You can be an entrepreneur or entrepreneurial minded without having a fully-fledged idea to tackle the problem ahead of you!
This workshop will teach you the fundamentals of generating ideas. Join us to learn some tips and tricks around idea generation and how to advance those ideas through various techniques and considerations. The goal of this workshop is to help you develop your ability to both perceive and harness opportunities around you that can then be transformed into reality!
Prerequisites
None!
House keeping rules
Above all, it is a practical session, and we are here to learn together, make mistakes, ask questions & collaborate so that we can learn intuitively.
Despite all workshops being online this fall, we are trying to emulate the in-person experience as best as we can, which would benefit from you having your camera on during workshop unless of course you don't have access to a webcam, in which case we still encourage your presence. Our only requirement from you is that you are eager to learn!
* This event is offered only in English.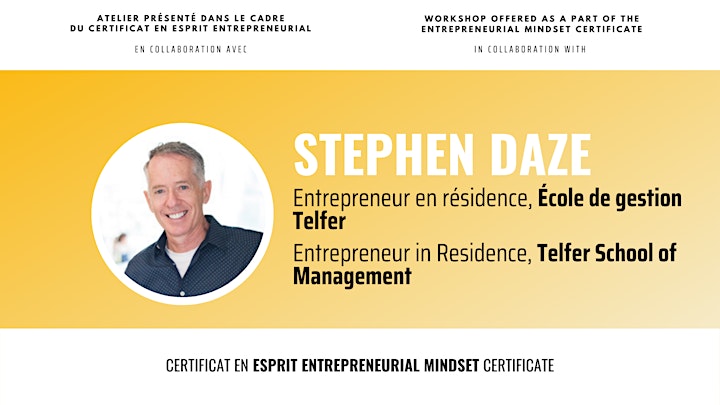 Stephen Daze
Stephen Daze est un membre de longue date de l'écosystème de l'entrepreneuriat au Canada et travaille dans quatre domaines de soutien à l'entrepreneuriat : 1) la formation en entrepreneuriat pour les individus et les groupes ; 2) le coaching pour les entreprises en démarrage ; 3) la consultation avec les institutions et les communautés sur les programmes et les stratégies d'entrepreneuriat ; et, 4) l'enseignement de l'entrepreneuriat dans les collèges et les universités. Il garde ses compétences à jour en tant que professeur à temps partiel en enseignant l'entrepreneuriat dans les programmes de premier cycle et de MBA à l'Université d'Ottawa et travaille avec les entrepreneurs pour le lancement de leurs nouvelles entreprises. Il est aussi actuellement entrepreneur en résidence à l'École de gestion Telfer et, en 2016, il est devenu lauréat du chapitre Beta Gamma Sigma de l'École.
Auparavant, il a dirigé le Centre d'entrepreneuriat du Centre de recherche et d'innovation d'Ottawa (OCRI) en tant que directeur général, dirigeant une équipe de membres du personnel qui se consacrent à aider les entrepreneurs à réussir grâce à des programmes et services novateurs en matière d'entrepreneuriat. À l'automne 2009, Stephen a été responsable de la réintroduction réussie du programme Jeunes entreprises sur le marché d'Ottawa. Il a été reconnu à l'échelle nationale pour la croissance du programme dans la région d'Ottawa au sein de l'organisation nationale des JA et a également reçu la médaille du jubilé de diamant de la reine Elizabeth II pour son travail de promotion de l'entrepreneuriat chez les jeunes.
Site web: www.coachmystartup.com
--
Stephen Daze
Stephen Daze is a long-standing, award winning member of the entrepreneurship ecosystem in Canada and works in four areas of entrepreneurship support: 1) entrepreneurship training for individuals and groups; 2) coaching for start-ups; 3) consulting with institutions and communities on entrepreneurship programming and strategy; and, 4) teaching entrepreneurship at colleges and universities. He keeps his skills fresh as a part-time professor teaching entrepreneurship in the undergraduate and MBA programs at the University of Ottawa and works with entrepreneurs in the launch of their new ventures. He also currently holds the role of Entrepreneur in Residence at the Telfer School of Management and in 2016, became the Beta Gamma Sigma Chapter Honoree at the School.
Previously, he led the Ottawa Centre for Research and Innovation's (OCRI) Entrepreneurship Centre as Executive Director leading a team of staff members dedicated to helping entrepreneurs succeed through innovative entrepreneurship programming and services. In the Fall of 2009, Stephen was responsible for the successful reintroduction of Junior Achievement programming back to the Ottawa market and was recognized nationally for the program's growth in the Ottawa region within the JA national organization and also received the Queen Elizabeth II Diamond Jubilee Medal for his work in youth entrepreneurship promotion.
Website: www.coachmystartup.com
Organizer of CEE : Idéation | EMC: Ideation