CEE : L'art de la réunion | EMC: The Art of the Meeting
Joignez-nous pour apprendre à structurer une réunion productive. | Join us to learn how to structure a productive meeting.
About this event
[An English message will follow]
Pensez-vous que les réunions sont une perte de temps ennuyeuse ? Nous sommes ici pour vous faire changer d'avis ! Les réunions sont véritablement l'un des outils les plus efficaces du répertoire d'une entreprise. Une réunion bien organisée et efficace peut garantir l'alignement de votre équipe et peut contribuer à renforcer les relations et la cohésion de l'équipe. Ils permettent également à une équipe de partager des informations, d'échanger des commentaires et de se motiver mutuellement. Rejoignez-nous pour découvrir quelques conseils et outils qui nous aideront à planifier des réunions plus efficaces.
Prérequis
Aucun!
Règles de base
D'abord et avant tout, il s'agit d'un atelier pratique et nous sommes ici pour apprendre ensemble, faire des erreurs, poser des questions et collaborer afin que vous puissiez apprendre de manière intuitive.
Bien que l'ensemble de nos ateliers soit offert en ligne cet automne, nous souhaitons simuler de plus près une expérience d'apprentissage en personne. Par conséquent, il serait utile que vous démarrez votre webcaméra lors de l'atelier. Bien sûr, si vous n'avez pas n'y avez pas accès, nous encourageons votre présence tout de même. On demande tout simplement votre patience et votre désir d'apprendre.
* Cet atelier est offert en anglais seulement.
--
Do you think meetings are a boring, waste of time? Well, we are here to change your mind! Meetings truly are one of the most effective tools in a business' repertoire. A well-organized, effective meeting can ensure that your team is aligned, and can help strengthen relationships and team cohesion. They also allow a team to share information, exchange feedback and motivate one another. Join us as we learn some tips and tools that will help us to plan more effective meetings.
Prerequisites
None!
House keeping rules
Above all, it is a practical session, and we are here to learn together, make mistakes, ask questions & collaborate so that we can learn intuitively.
Despite all workshops being online this fall, we are trying to emulate the in-person experience as best as we can, which would benefit from you having your camera on during workshop unless of course you don't have access to a webcam, in which case we still encourage your presence. Our only requirement from you is that you are eager to learn!
*This event is offered in English only.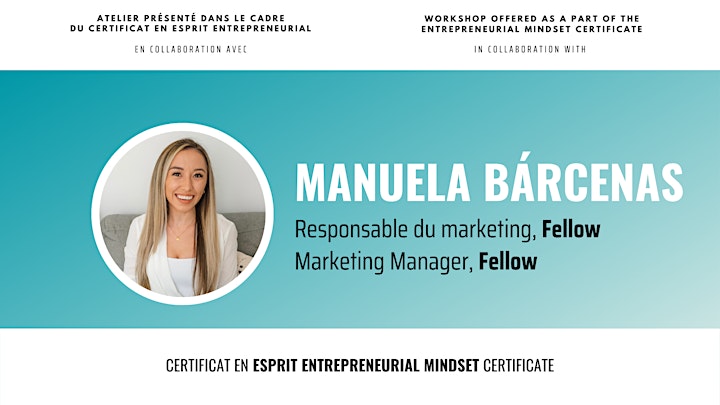 Organizer of CEE : L'art de la réunion | EMC: The Art of the Meeting