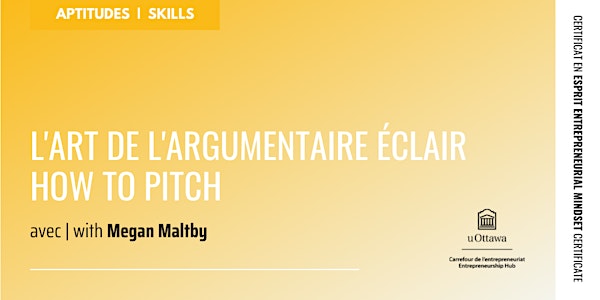 CEE: L'art de l'argumentaire éclair | EMC: How to Pitch
Comment créer un argumentaire éclair | Perfect your skills on how to craft a pitch
About this event
[An English message will follow]
Un « argumentaire éclair » (elevator pitch) est l'art de décrire une idée, un programme ou une entreprise de façon accrocheuse et concise.Si vous désirez vous exercer à créer l'argumentaire éclair parfait, que ce soit pour expliquer votre propre idée ou un projet de votre employeur, cet atelier est pour vous! Vous y apprendrez les principaux éléments qui entrent dans la composition d'un argumentaire éclair afin d'être en mesure de parler de votre idée, de votre employeur ou de vous-même à n'importe quel interlocuteur.
Prérequis
Aucun!
Règles de base
D'abord et avant tout, il s'agit d'un atelier pratique et nous sommes ici pour apprendre ensemble, faire des erreurs, poser des questions et collaborer afin que vous puissiez apprendre de manière intuitive.
Bien que l'ensemble de nos ateliers soit offert en ligne cet automne, nous souhaitons simuler de plus près une expérience d'apprentissage en personne. Par conséquent, il serait utile que vous démarrez votre webcaméra lors de l'atelier. Bien sûr, si vous n'avez pas n'y avez pas accès, nous encourageons votre présence tout de même. On demande tout simplement votre patience et votre désir d'apprendre.
* Cet atelier est offert en anglais seulement.
-----
An elevator pitch is a short and sweet description of an idea, program or business that you could tell someone in the time it takes to take an elevator ride!
If you want to perfect your skills on how to craft a pitch, whether it be for your own idea or how to talk about a company or organization you work for, this workshop is for you! This workshop will take you through the important elements of putting together your elevator pitch, so you will be able to tell anyone and everyone about your idea, company you work for or about yourself!
Prerequisites
None!
House keeping rules
Above all, it is a practical session, and we are here to learn together, make mistakes, ask questions & collaborate so that we can learn intuitively.
Despite all workshops being online this winter, we are trying to emulate the in-person experience as best as we can, which would benefit from you having your camera on during workshop unless of course you don't have access to a webcam, in which case we still encourage your presence. Our only requirement from you is that you are eager to learn!
* This event is offered only in English.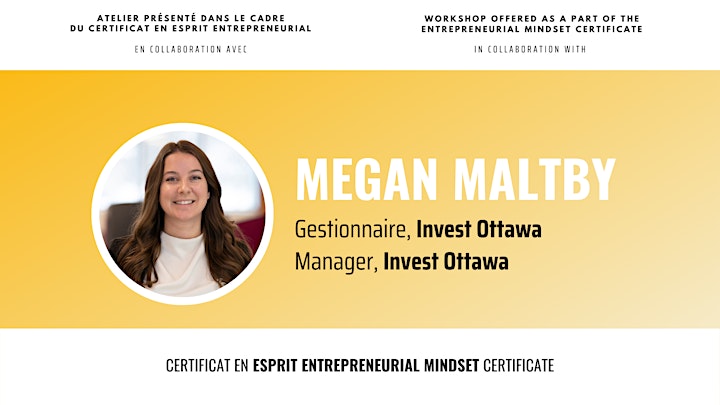 Megan Maltby est la gestionnaire des programmes d'accélération et des relations avec les investisseurs d'Invest Ottawa. À ce titre, Megan supervise les opérations et la mise en œuvre des programmes d'accélération pour les clients en phase de démarrage technologique. En plus de gérer les programmes, Megan accompagne les clients dans la collecte de fonds et la préparation aux investissements. Elle établit et entretient également des relations avec des investisseurs providentiels, des investisseurs en capital-risque et des bailleurs de fonds non dilutifs.
Avant d'occuper son poste actuel, Megan a été analyste principale des investissements chez Invest Ottawa et a occupé divers postes chez Innovacor, une société de capital-risque en phase de préamorçage et d'amorçage. Avant de rejoindre Innovacorp, Megan était analyste au sein du First Angel Network, le réseau d'investissement organisé des anges du Canada atlantique.
Megan est titulaire d'une licence de l'Université Acadia et d'un MBA de l'Université Dalhousie.
-----
Megan Maltby is Invest Ottawa's Manager of Accelerator Programs & Investor Relations. In this role, Megan oversees the operations and program delivery of acceleration programs for early stage technology clients. In addition to managing programming, Megan coaches clients on fundraising and investment readiness. She also builds and maintains relationships with angel investors, venture capitalists, and non-dilutive funders.
Prior to her current role, Megan spent time as a Senior Investment Analyst at Invest Ottawa and in various roles at Innovacorp- a pre-seed/seed stage venture capital firm. Before joining Innovacorp, Megan was an analyst with the First Angel Network, Atlantic Canada's organized angel investment network.
Megan holds a bachelor of arts degree from Acadia University and an MBA from Dalhousie University.