Rejoignez-nous pour mieux comprendre et quantifier votre marché cible !
About this event
This workshop will be presented in French. For the English workshop, please see EMC: Market Research.
Vous avez une idée mais vous devez comprendre et quantifier votre marché cible ? Apprenez des conseils et des astuces pour délimiter votre clientèle et comprendre le contexte du marché en détail afin de pouvoir faire une analyse de rentabilisation convaincante. Nous vous montrerons des techniques que tout le monde peut utiliser, ainsi que des outils d'abonnement offerts aux étudiants de uOttawa.
Notez : cet atelier portera principalement sur l'étude du marché secondaire.
Prérequis
Aucun!
Règles de base
D'abord et avant tout, il s'agit d'un atelier pratique et nous sommes ici pour apprendre ensemble, faire des erreurs, poser des questions et collaborer afin que vous puissiez apprendre de manière intuitive.
Bien que l'ensemble de nos ateliers soit offert en ligne cet automne, nous souhaitons simuler de plus près une expérience d'apprentissage en personne. Par conséquent, il serait utile que vous démarrez votre webcaméra lors de l'atelier. Bien sûr, si vous n'avez pas n'y avez pas accès, nous encourageons votre présence tout de même. On demande tout simplement votre patience et votre désir d'apprendre.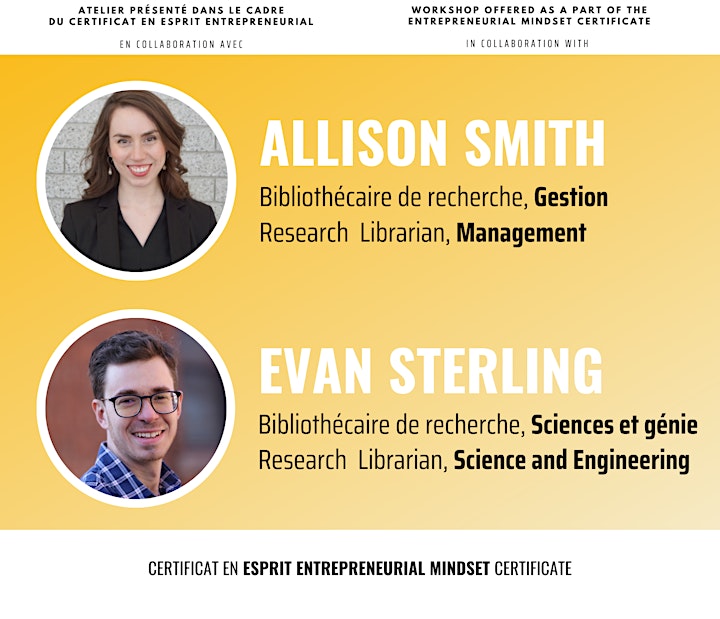 Alison Smith
Allison Smith est une bibliothécaire de recherche spécialisée dans les affaires et la gestion. Elle aide à mettre la communauté de l'Université d'Ottawa en contact avec un large éventail de ressources d'information et d'outils pour leurs projets. Avant de rejoindre l'Université d'Ottawa, Allison a travaillé dans la gestion des connaissances et la veille concurrentielle pour des entreprises du Fortune 500. Elle est impatiente d'en savoir plus sur vos idées !
Evan Stirling
Evan Sterling est un bibliothécaire de recherche pour l'ingénierie et la gestion de l'ingénierie à l'Université d'Ottawa, qui aide les étudiants de ces programmes à trouver des informations difficiles à trouver. Auparavant, il a travaillé comme ingénieur-conseil à Toronto et à Kingston. Il aime voir les idées et les projets intéressants sur lesquels les étudiants travaillent.
Organizer of CEE : L'étude de marché