CEE : Marketing des médias sociaux | EMC: Social Media Marketing
Apprenez à utiliser et à gérer le marketing des médias sociaux !| Learn how to effectively use and manage social media marketing!
About this event
[An English message follows].
Les médias sociaux jouent un rôle important dans votre projet d'entreprise. Ils contribuent à accroître la valeur et la reconnaissance de la marque, parmi de nombreux autres avantages ! Dans cet atelier, nous apprendrons quelques bonnes pratiques qui nous aideront à optimiser notre présence en ligne. Nous examinerons les stratégies de marketing pour de nombreuses plateformes de médias sociaux différentes, comme Instagram, Twitter, LinkedIn, Facebook et TikTok !
Prérequis
Aucun!
Règles de base
D'abord et avant tout, il s'agit d'un atelier pratique et nous sommes ici pour apprendre ensemble, faire des erreurs, poser des questions et collaborer afin que vous puissiez apprendre de manière intuitive.
Bien que l'ensemble de nos ateliers soit offert en ligne cet automne, nous souhaitons simuler de plus près une expérience d'apprentissage en personne. Par conséquent, il serait utile que vous démarrez votre webcaméra lors de l'atelier. Bien sûr, si vous n'avez pas n'y avez pas accès, nous encourageons votre présence tout de même. On demande tout simplement votre patience et votre désir d'apprendre.
* Cet atelier est offert en anglais seulement.Do you want to learn more about telling a brand's story through social media content?
-----
Social media plays a huge role in your entrepreneurial endeavour. It helps increase brand value and recognition amongst many other benefits! In this workshop, we will learn some best practices that will help us optimize our online presence. We will look at marketing strategies for many different social media platforms, such as Instagram, Twitter, LinkedIn, Facebook and TikTok!
Prerequisites
None!
House keeping rules
Above all, it is a practical session, and we are here to learn together, make mistakes, ask questions & collaborate so that we can learn intuitively.
Despite all workshops being online this fall, we are trying to emulate the in-person experience as best as we can, which would benefit from you having your camera on during workshop unless of course you don't have access to a webcam, in which case we still encourage your presence. Our only requirement from you is that you are eager to learn!
* This event is offered only in English.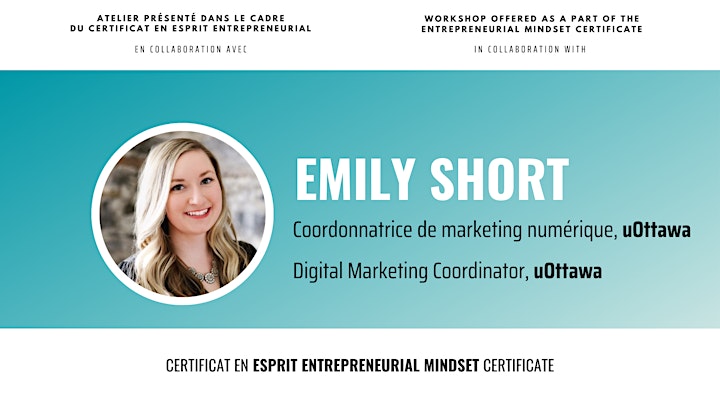 Emily Short est une spécialiste du marketing numérique engagée et enthousiaste, motivée par la mise en relation des marques et des entreprises avec leurs communautés. Elle est fière d'obtenir des résultats grâce à des campagnes stratégiques et créatives en tant que coordonnatrice du marketing numérique à l'École de gestion Telfer de l'Université d'Ottawa. Emily se spécialise dans le marketing de contenu, la gestion des médias sociaux, la réflexion stratégique, la rédaction, l'UX/UI, le SEO, la gestion des actifs visuels et la gestion de projet. Elle est également pigiste et actuellement responsable de la gestion des médias sociaux et de l'image de marque pour un salon de coiffure d'Ottawa. Elle est diplômée de l'école Telfer avec un BCom en marketing et a obtenu son certificat en marketing numérique en 2018.
-----
Emily Short is a committed and enthusiastic digital marketer driven by connecting brands and businesses with their communities. She takes pride in delivering results through strategic and creative campaigns as Digital Marketing Coordinator at the Telfer School of Management at the University of Ottawa. Emily specializes in content marketing, social media management, strategic thinking, copywriting, UX/UI, SEO, visual asset management and project management. She is also a freelancer currently responsible for social media management and branding for an Ottawa hair salon. She graduated from the Telfer School with a BCom in Marketing and completed her Digital Marketing Certificate in 2018.
Organizer of CEE : Marketing des médias sociaux | EMC: Social Media Marketing