CEE: Marketing numérique | EMC: Digital Marketing
Survol des principales étapes de la création d'une stratégie de marketing numérique | Learn the basics of creating a digital strategy
About this Event
[An English message will follow]
Nous vivons à l'époque du Web! Vous désirez savoir comment créer une stratégie numérique et utiliser les médias sociaux? Cet atelier fait un survol des principales étapes de la création d'une stratégie de marketing numérique – y compris la façon d'aborder les médias sociaux – que ce soit dans le contexte d'un projet d'entrepreneuriat ou d'un emploi.
Prérequis
Aucun!
Règles de base
D'abord et avant tout, il s'agit d'un atelier pratique et nous sommes ici pour apprendre ensemble, faire des erreurs, poser des questions et collaborer afin que vous puissiez apprendre de manière intuitive.
Bien que l'ensemble de nos ateliers soit offert en ligne cet automne, nous souhaitons simuler de plus près une expérience d'apprentissage en personne. Par conséquent, il serait utile que vous démarrez votre webcaméra lors de l'atelier. Bien sûr, si vous n'avez pas n'y avez pas accès, nous encourageons votre présence tout de même. On demande tout simplement votre patience et votre désir d'apprendre.
* Cet atelier est offert en anglais seulement.
--
In this day and age, everyone is online! Do you want to learn more about creating a digital strategy and using social media? This workshop will focus on the basics of creating a digital marketing strategy for yourself as an entrepreneur, your startup, organization, etc! It will go over all of the main components of creating an online strategy, including how to approach social media! This can be used for your own idea or in a job!
Prerequisites
None!
House keeping rules
Above all, it is a practical session, and we are here to learn together, make mistakes, ask questions & collaborate so that we can learn intuitively.
Despite all workshops being online this fall, we are trying to emulate the in-person experience as best as we can, which would benefit from you having your camera on during workshop unless of course you don't have access to a webcam, in which case we still encourage your presence. Our only requirement from you is that you are eager to learn!
*This event is offered in English only.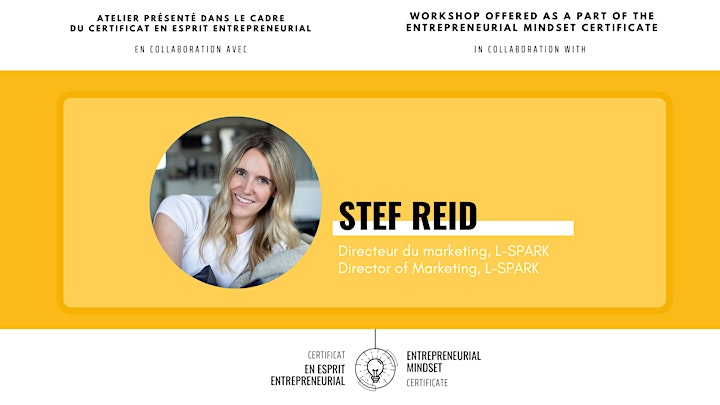 Stef Reid
Stef est un leader en marketing, un créateur de contenu, un créateur de communauté, un écrivain et un designer. L'approche de Stef en matière de marketing est amusante, personnelle, enracinée dans une stratégie réfléchie, avec la créativité et l'originalité au premier plan. Ce que Stef aime le plus dans son travail de marketing, ce sont les gens ; les gens inspirent des idées créatives qui remettent en question le statu quo. Dans son rôle actuel de directrice du marketing chez L-SPARK, Stef est responsable de la création et de l'exécution de la stratégie marketing de la société. Elle aide les startups à élaborer des plans de marketing numérique visant à accélérer la visibilité et la croissance de l'entreprise. Stef est titulaire d'un baccalauréat en commerce de Carleton University, où elle s'est spécialisée en marketing.
Twitter: @stefreid_
---
Stef Reid
Stef is a marketing leader, content creator, community builder, writer, and designer. Stef's approach to marketing is fun, personal, rooted in thoughtful strategy, with creativity and originality at the forefront. What Stef loves most about being a marketer is the people; the people inspire creative ideas that challenge the status quo. In her current role as Director of Marketing with L-SPARK, Stef is responsible for creating and executing on the company's marketing strategy. She helps startups build digital marketing plans focused on accelerating the visibility and growth of the company. Stef holds a Bachelor of commerce from Carleton University, where she majored in Marketing.
Twitter: @stefreid_