CEE: Mettre le produit sur le marché
Apprenez comment mettre votre idée de produit sur le marché!
About this Event
This workshop is also offered in English. To register, click here.
Vous avez une idée de produit, mais vous ne savez pas quoi faire ensuite ? Que devez-vous faire pour sortir votre idée de votre tête et la mettre sur le marché ?
Rejoignez-nous pour découvrir les étapes à suivre pour mettre votre nouveau produit sur le marché ! Nous vous expliquerons comment trouver le bon marché, comment vous positionner par rapport à vos concurrents, comment tester vos idées et, surtout, comment les faire connaître.
Prérequis
Aucun!
Règles de base
D'abord et avant tout, il s'agit d'un atelier pratique et nous sommes ici pour apprendre ensemble, faire des erreurs, poser des questions et collaborer afin que vous puissiez apprendre de manière intuitive.
Bien que l'ensemble de nos ateliers soit offert en ligne cet automne, nous souhaitons simuler de plus près une expérience d'apprentissage en personne. Par conséquent, il serait utile que vous démarrez votre webcaméra lors de l'atelier. Bien sûr, si vous n'avez pas n'y avez pas accès, nous encourageons votre présence tout de même. On demande tout simplement votre patience et votre désir d'apprendre.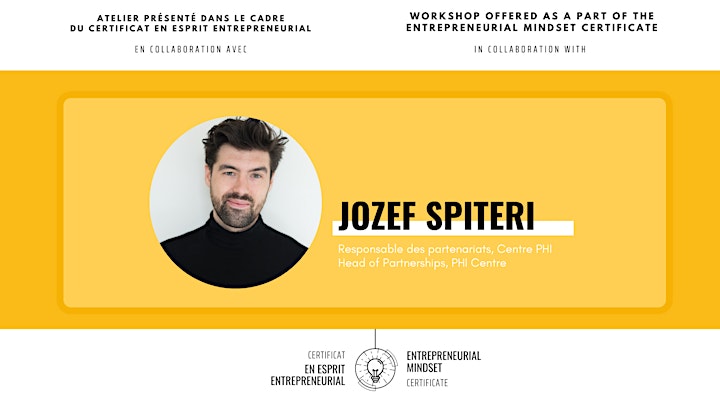 Jozef Spiteri
L'expérience de Jozef dans la gestion de projets créatifs et son engagement auprès de divers publics l'ont propulsé dans l'industrie créative. Travailler sur des projets liés à l'expérience du public offre une occasion parfaite de combiner ses forces de gestion avec sa passion pour l'utilisation du pouvoir de la collaboration créative afin de révolutionner les environnements sociaux avec des expériences qui captivent notre public.
Jozef a complété un programme de maîtrise en gestion internationale des arts offert conjointement par la Southern Methodist University (Dallas, Texas), HEC Montréal (Montréal, Québec) et la SDA Bocconi School of Management (Milan, Italie). Il a fondé sa propre agence, a occupé des postes, des festivals, des salles de concert et des agences de communication et de marketing, sur trois continents. Grâce à son expérience professionnelle, il a pu travailler tant avec des organismes communautaires qui sont soit clandestins, soit en marge des institutions artistiques et culturelles qu'avec des institutions des beaux-arts. Cela lui a permis de combler les fossés, d'élargir la collaboration et de commencer à transformer les systèmes artistiques et culturels aux niveaux local, régional et mondial.